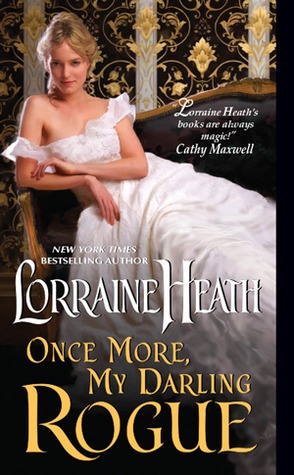 Remember that movie "Overboard," with Goldie Hawn and Kurt Russell? How tempting would it be if you had the opportunity to get a little of your own back against someone who had belittled you and scorned you at every opportunity? That's the first thing that came to my mind as Lady Ophelia Lyttleton called Drake Darling "Boy," and ordered him to bring her a glass of champagne at a ball. While Drake is not a noble, he is the adopted son of a duke, and has never done a thing to spark Ophelia's spitefulness. So, later when he rescues a mud-covered lady from almost drowning, and takes her home, and realizes that it's Ophelia, and that she has no memory of anything, he decides to make her believe she is a servant for a day before he returns her to her home.
This Ophelia, however, is not at all like the haughty heiress who has plagued Drake. While she is pretty inept as a servant, she quickly learns, and works hard, much to Drake's amazement. Since the circumstances of her accident are very murky, Drake does some investigating, and feels that she may still be in danger, so he doesn't take her home right away, as planned. They quickly develop an intimacy and an attraction. Without her prejudices clouding her judgment, Ophelia (now called "Phee") sees Drake for the man he is. And Drake is a wonderful man – he's big, strong, handsome, and protective. And I quite liked Phee now, that is, until her memory came back.
This book was well written, and flowed nicely. I love the trope of amnesia, when it's well done. And, frankly, it was a good thing that Ophelia had a chance to reflect on her former nasty self, because she came out of it a much better person. There are a couple mysteries – what caused Ophelia's accident, and what happened in her past to make her the unpleasant person she had been. There is a touching scene near the end between Drake and his adopted father which brought tears to my eyes. And I thoroughly enjoy that this series of books is about the children of the characters from Lorraine Heath's previous series, The Scoundrels of St James. This is a wonderful read, particularly if you like stories of redemption and self-forgiveness. I highly recommend reading it.
Editor's note:
This article was originally published at Long and Short Reviews. It has been republished with permission. Like what you read? Subscribe to the
SFRB's free daily email notice so you can be up-to-date on our latest articles. Scroll up this page to the sign-up field on your right.