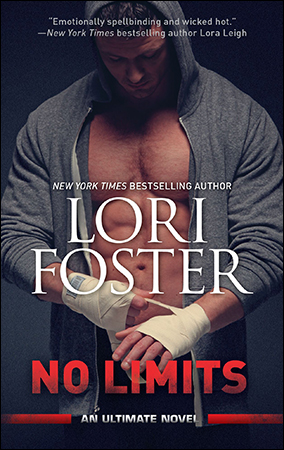 Ms. Foster once again provides her fans with another heart thumping, entertaining and sexy read starring another yummy SBC hero. This book has to be one of the most eagerly awaited novels because of the star of the story, Cannon. The wait was worth it.
The first thing to be assured of is No Limits can be a standalone read. Sure, the relationship between Cannon and Yvette started in the last book, Dash of Peril, but Ms. Foster provides enough background in a natural retelling by various cast and characters in this current story to understand how they knew each other in the past.
The author leaves no doubt in a reader's mind that Cannon loves Yvette. Through the story his love grows, matures and is clarified. Ms. Foster makes sure a reader knows how patient and understanding the hero is by putting him in situations that tests his resolve. He exhibits a care and consideration for others that defies the environment he grew up in. He's a pretty noble guy.
Yvette is just as head over heels over Cannon as she ever was, but she has to realize that her youth-like love for him in the past has indeed matured into an adult love and it's real. The only thing stopping her from enjoying and exploring it, is her own hang-ups. They're a pretty big stumbling block to the romance which is why Cannon has to have such a deep well of patience and perseverance to draw from.
The internal conflict for Yvette was understandable and I could buy into its effect on her life and her choices in life. The external conflicts however, are not unique in any way. I cringed every time she 'ignored' Heath and face palmed when she said she 'handled or could handle' him. I rolled my eyes a lot too. With all the advancements and warnings over the last twenty years or so and readily available advice about those kinds of 'relationships', Yvette's handling of the situation left much to be desired. The other secondary external conflict was also predictable. It was so blatant, I was flabbergasted that Cannon, of all people, couldn't guess it for himself much earlier in the book. Despite all of the clichés, it still provided many interesting twists and turns for their relationship and entertaining dialogue and action to keep things interesting.
Secondary characters were definitely a plus in this story. There's a lot of world building going on to introduce the future heroes in the series and preparation for a reader to understand how they all are interwoven in their lives. It was fun.
The romance, when it was finally allowed to blossom into the fiery passion I knew they were capable of, was awesome and well worth the wait.
No Limits is great entertainment. I was happy to see Cannon and Yvette get their happy ever after and I enjoyed meeting all the new guys with their quirks and unique personalities. I had fun reading this story and I'm sure fans will be jumping for joy when they get to read this novel for themselves. There's a lot to like within its pages.
Editor's note:
This article was originally published at Long and Short Reviews. It has been republished with permission. Like what you read? Subscribe to the
SFRB's free daily email notice so you can be up-to-date on our latest articles. Scroll up this page to the sign-up field on your right.