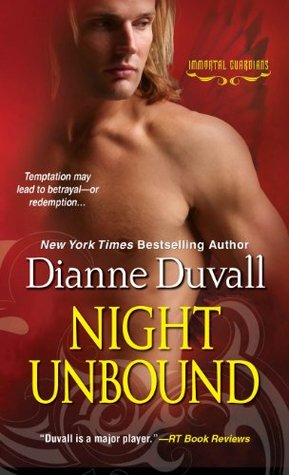 Fans of paranormal romance who haven't discovered this series yet are really missing out on something extraordinary. Ms. Duvall has consistently proved her talent with every installment by delivering heart stopping action, thrilling escapes, sizzling romance and heroes and heroines that touch and engage the emotions of a reader. Every single book so far has been almost impossible to put down once I started and Night Unbound continues the tradition. I read it in one day, all 400+ pages. It was that compelling.
If readers like a bad good guy who is misunderstood, Zach is their man. If readers are looking for a romance that embraces sweet and naughty, that can be tender or frenzied, and defies all odds, including threat of death, then this is the book to read. If a race against time and the drama and suspense and all that that entails piques your interest, then a reader should feel right at home. If reading about a strong man who is not intimidated by a strong woman but is turned on by it, who acts like an adorable puppy with the heroine but can wield power better than Darth Vader, then Zach might be the man of your dreams. Zach's personal growth in this story is tremendously painful but worth every angst filled page. What he turns into is worthy of a swoon – and a rousing cheer.
Lisette is the heroine who teaches Zach to crave a woman's touch. She's a warrior and has a wicked talent with swords. She's also a very brave woman because she stood up to the threat of death in order to be with the man she loved. At no time did the author fall into the trap of making Lisette less than what she started off to be – a strong, independent woman with a confidence to match. Doesn't mean she doesn't make mistakes. But the make-up sheet fun was worth reading; every single scene. Well, there was that part that some would consider embarrassing, but I found tremendously funny. I don't think her brother will recover any time soon. I giggle every time I remember that part.
Secondary characters are too numerous to mention. Perhaps a new reader might get lost when it comes to some of the deep emotional undercurrents between them, mostly because they are much more effective if a reader has the background. But Ms. Duvall did include enough backstory in the natural telling of this tale to catch a reader up to speed so I'm not too worried about calling this a standalone read. In any event, the secondary characters to keep an eye on for future stories are Seth and Aiden. I don't know too much about Aiden yet but I recognize a wonderful hook when I see one. But Seth, Seth is special. In this novel readers will find out more about him then they ever dreamed they would all in one book. Now I know he is a man in need of love even more than the men I've met so far. It's not too strong of a statement to say that I'm enamored of this series. It's so rich and meaty!
As for bad guys, Ha! Get ready to be turned around upside down. I was as discombobulated as Zach and as frustrated as Seth. Who could do the impossible and do all that was done? The suspense and mystery of it all had me gripped by my short hairs. I'm still reeling from the ramifications. It was awesome writing.
Night Unbound isn't just a story, it's a profound experience. The editing, the characterization, the dialogue, the pace and delivery of the plot and all its environs were simply spot on. I am hard pressed to find anything that didn't work for me. I adored how Lisette and Zach were together – watching their love grow made me happy. There is sadness too, and tenderness and even hope and joy woven in to keep things balanced. Night Unbound has everything a paranormal romance reader could possibly wish and then some. I cannot express enough my pleasure and satisfaction from having read this book but I encourage readers to discover the unique richness that abounds in Ms. Duvalls books. This book and the rest are treasures.
Editor's note:
This article was originally published at Long and Short Reviews. It has been republished with permission. Like what you read? Subscribe to the
SFRB's free daily email notice so you can be up-to-date on our latest articles. Scroll up this page to the sign-up field on your right.