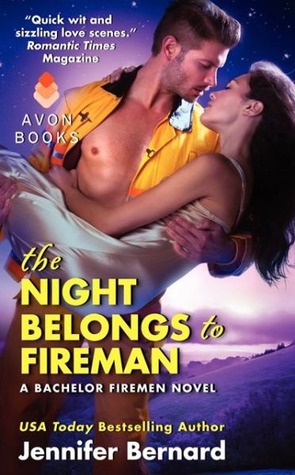 I find nothing more romantic than a story about two people who love each other so much, they want the absolute best for the other person, even at their own expense. It's a theme that has been done numerous times in the past but this time it's special. The author put her own clever stamp on the storyline by making the hero a hunky fireman who doesn't think he's anything special, and a woman with a scary past who is so rich, she's been stuffed behind a wall of protection all of her adult life. The basic outcome is eventually the hero finally understands he IS special, and worthy of the title 'hero, and the heroine learns to stand up for herself and not let the terror of the past dictate her future. They each do things that benefit the other but as is the course of human nature when crisis is in the mix and emotions and passions run high, folks don't always say or do the brightest things in those types of situations. Such is one of the conflicts in this story and Ms. Bernard navigated it well.
I really like Fred. I also find it unusual to have a hero named Fred. Initially, I thought of Fred from Scooby Doo but that didn't last too long. Ms. Bernard's Fred is intelligent, fit, and talented in Martial Arts and performs a job that has him run into danger and possible harm, not away. He has a few chips on his shoulder that he has to face during the course of the story. Leave it to Ms. Bernard to put her hero in the most dramatic and suspenseful of situations to get a reader's blood pumping. Some of the scenes with Fred are full of action, written with tight descriptions that make the gritty drama and fast pace pop off the pages. He comes through at the end with heroic flair and I enjoyed every moment of it. Even his dialogue showcases his personality.
Rachel is not a typical heroine. Yes, she's pampered by daddy, but there's a reason. A very good reason. She's sweet, earnest and has an adventurous, fun side that seems to come out only with Fred. She's a little rebel too and her actions, though they sometime verge on the annoying, contribute to the plot conflict. Ultimately, she does find the strength within herself to face her greatest enemy and those scenes prove to be quite gripping.
The villain of the piece was two-fold. And the one person I thought all along it might be, was not. One was a total nutcase, of which there was a tiny hint but I didn't catch it until Fred remembered it, and the other came out of left field. That villain truly freaked me out. What a great choice of character!
When Fred and Rachel finally have had enough of their simmering feelings and act on them, the only thing I can say is, it's a good thing that Fred is a fireman. Those pages were smoking and their getting together was sexy.
One of the cutest parts was when all the firefighter's wives gathered to give Rachel some advice. It was adorable and fun. In fact seeing Vader again, and quite a few of the other firefighters from past books, was a true treat. This is solidly a standalone read, but it was a wonderful touch to have the other guys help Fred out when some of the situations got sticky. That reporter needs to be gagged. She's NOT a nice person.
The Night Belongs to Fireman is a terrific addition to the Bachelor Fireman Series because it keeps the tradition of a great story, a hero and heroine that are fun to read about and a nice and easy storytelling voice. This novel has a lot going for it, including a wonderful dog, Greta. The author's descriptions of scenes with Greta painted a clear picture and it was a delightful addition to the tale. I definitely recommend this book for romance readers, especially those who enjoy a bit of mystery and suspense to spice it up. Ms. Bernard sure knows how to entertain a reader.



Editor's note:
This article was originally published at Long and Short Reviews. It has been republished with permission. Like what you read? Subscribe to the
SFRB's free daily email notice so you can be up-to-date on our latest articles. Scroll up this page to the sign-up field on your right.