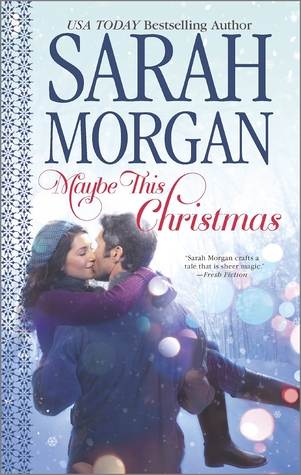 Maybe This Christmas is a holiday themed romance that reads like a warm hug, filled with love and devotion. It took a while for the hero to understand that the best holiday gift has been with him his whole life. This story follows Tyler as he discovers the courage to open his 'present' and his heart.
I've now read all three books and I have to say that Sleigh Bells in the Snow and Maybe This Christmas are the ones that should be made into Hallmark movies. All the elements are there to make readers feel like they are part of the family because their emotions are engaged completely by the time they finish reading the first chapter of either book. Ms. Morgan seems to know our secret desires of what a Christmas holiday romance should encompass and she delivers it flawlessly.
Truly, I put on holiday music as I wrote this review. I was inspired. The story creates a sense of joy and magic about snow storms, evergreens laden down with snow and the crisp mountain air of Vermont. The scenes about skiing, snowmobiling and trudging through the white drifts were well described and made me feel like I was there. It even almost made me look forward to winter again – almost.
Tyler was an interesting character. He was a man driven to excel, to succeed and to push himself to the limit in the skill of competitive skiing. In a few seconds, an accident on a ski run took it all away. This book explores the journey of the hero coming to terms with his new reality and Tyler isn't taking it too well. Enter a pivotal secondary character – his daughter, Jess. Their relationship provided many moments of reflection, emotion, hilarity, tender words and love between father and daughter. It was heart warming, rocky, quirky and a work in progress. I enjoyed the scenes of them together.
The thing Tyler and Jess both agree on is how wonderful Brenna Daniels is, for obviously different reasons. Thing is, Brenna has loved Tyler all her life but he's absolutely clueless. I liked how the heroine was depicted. She tried to live her life the best she could, resigning herself to unrequited love. Not only does she have to struggle to act like she doesn't care but she has a strained relationship with her parents. When Ms. Morgan was ready to share it, imagine my surprise as to the reason. It was rather shocking. Not only did it make things so much clearer, it had its own happy ever after finale and I was very touched.
Even though most of the conflict is internal there is one external conflict that has been bubbling under the surface for a while. This is where Ms. Morgan shines – she takes a subject that has deep and possibly tragic lifetime repercussions and explores how a person can heal and rise above the pain. I speak of being bullied in school. The author handled the conflict with care and the scenes that dealt with it were examples of powerful writing. I couldn't help but be emotionally engaged in the telling and the author showed just how heart wrenching it can be but also provided readers with a twist. The heroine realizes a shocking truth and it stunned me. Ms. Morgan, through her heroine, shows how empowering being able to forgive can be. I respected the heck out of Brenna at that moment.
No spicy romance would be complete without the hero and heroine finally succumbing to their built up passions. It doesn't get any more romantic that this. Ms. Morgan certainly satisfies a reader on that score. Of course, Tyler initially bumbled it. That made great conflict because at that point he was still trying to reconcile the possibilities with his fears. Eventually, after an ultimatum that shocked him to his toes, Tyler does what he does best – focuses and lets nothing stop him from succeeding. The resulting scene practically melted my heart. This series ends with the ultimate in romantic settings and dialogue and scenes that made me say, "Awwww!"
Maybe This Christmas is filled with warmth, joy and love. This novel is filled with lessons learned, yearnings fulfilled and adorable dogs frolicking among its pages. It's a story I'm adding to my keeper shelf to reread when I need a boost of "feel good' to brighten my day. It's that kind of book and worth recommending to romance readers everywhere. Get your smile on and read Maybe This Christmas.



Editor's note:
This article was originally published at Long and Short Reviews. It has been republished with permission. Like what you read? Subscribe to the
SFRB's free daily email notice so you can be up-to-date on our latest articles. Scroll up this page to the sign-up field on your right.