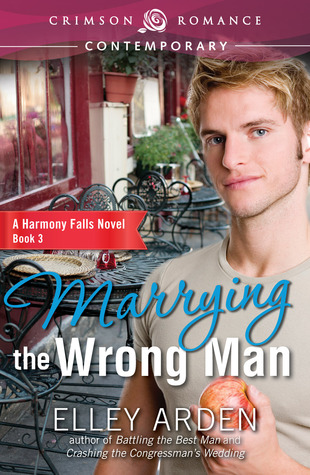 Marrying the Wrong Man is one of those rare books that manages to show you the flaws of its protagonists, warts and all, yet still portray them as people you want to root for. I found it next to impossible to put it down, as I kept telling myself 'one more chapter, one more chapter', because I wanted to know what would happen with Morgan and Charlie.
Morgan easily wins you over with how much she cares for her daughter. The lengths she's willing to go to, to provide a home and security for her child is really moving. She is also a woman who has clearly made some pretty big mistakes in her past, and you have to respect her every time she faces up to them.
I loved Charlie. Elley Arden really shows you his struggle and therefore his strength in resisting the temptation to start drinking again. He's got a fun sense of humor but can be prickly. He has feelings for Morgan but has been burned by her one to many times, and watching him struggle against those feelings and the way Morgan reacts to it, ranges from amusing to romantic.
It did bother me that Morgan never told Charlie, until her return to town, that she had decided to keep their child and hadn't given her up for adoption two years ago as she had originally planned. She was never really called out on this, and despite all the issues between her and Charlie, that one was never brought up save for a few passing lines despite striking me as a really big deal.
I also never got much of sense for the town of Harmony Falls. The book is the third in a series centered on the town, but I didn't get much of a feel for the community. The only real sense I got was that it was unpleasant as the majority of the population was downright rude to Morgan for things that were either none of their business or not her fault. This made it hard to not completely agree with Morgan and her desire to get as far away from the town as possible.
Despite being the third book of the series, the author does a good job of catching you up on previous events. I never felt out of the loop or uninformed, and the story was focused on the present, not the past.
The characters are the real strength of this book. They are detailed and fleshed out and I got a real sense of each and every one of them, the main characters as well as the supporting cast. I was definitely interested in the plot and how things would turn out, but it was the people inhabiting the story that kept me turning the pages.
This book made me interested in reading the rest of the series and I will certainly be checking them out. The next time you're in the mood to read a good romance, I recommend you try this one. Only be warned, you won't be able to make do with one chapter.



Editor's note:
This article was originally published at Long and Short Reviews. It has been republished with permission. Like what you read? Subscribe to the
SFRB's free daily email notice so you can be up-to-date on our latest articles. Scroll up this page to the sign-up field on your right.