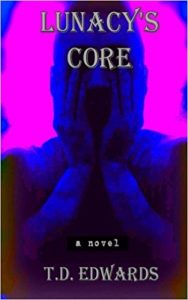 T.D. Edwards delivers a refreshing story, one that destroys old tropes with her paranormal mystery, Lunacy's Core. Though the descriptions of a book are meant to be the first hook for a reader, so many have fallen into the same generic trends that when books like this one do something different, it is instantly noteworthy. With Lunacy's Core we have a refreshing friendship dynamic offered and the author absolutely does not fail to deliver.
Although this is a rather short book, there is a lot to love with how dynamic and impactful the characters manage to be. As a reader it takes no effort to put yourself in the shoes of our lead, Kory, whom will feel familiar to anyone who has ever struggled to fit in. While he is a compelling character all by himself, the true genius comes from Edward's use of supporting characters. The summary promises colorful friends with Ronda and Jakil, but it is a mystery as to what role they will play. You could divide this book between the slice of life, an all too familiar high school drama, and the magical realism and still have two excellent stories. The main characters really are fantastically told and ultimately end up being the glue that holds the whole experience together.
Another draw that this book promises is a mystery with reality questioning implications. Like much of the book, the greater mystery is a slow burn, foreshadowed and hinted at initially and then later more fully expounded on. There are certainly interesting plot points to be had that will keep a reader going. For me the effort put into giving the villains motivations and obstacles of their own to overcome helped drive the narrative, but you need not take my word for it. Reading the book will show you exactly what I mean and given the length, it should not be hard to get from one hook to the next and experience the tale as the author intended.
This isn't to say the book is entirely without flaws. For instance, our supporting main characters are supposed to be popular foils to our outcast Kory. While this is paid some lip service early on, the author does not really show this and instead you're left wondering who, if anyone, is their friends. The story instead paints a slightly different picture of an odd ball bunch, rather than the popular kids and their genuine friendship. Another thing to be aware of is that this book is short. While length should not dissuade a reader, the fact remains the ending will come abruptly and may leave some unsatisfying loose ends. If this bugs you, fret not, there is a sequel already available and considering the accessibility of both volumes, the length becomes entirely forgivable.
If you're looking for a refreshing take on teen friendship with a hefty dose of mystery and reality questioning paranormal, then you might find a good home here. T.D Edwards certainly demonstrates a lot of talent in writing with her first published work and I will look forward to her future ventures. Though it may not be a masterpiece, the time needed to enjoy this with an instantly compelling narrative shouldn't in any way prevent a prospective reader from picking it up. After all, what have you got to lose? Maybe just your sanity.
Editor's note:
This article was originally published at Long and Short Reviews. It has been republished with permission. Like what you read? Subscribe to the
SFRB's free daily email notice so you can be up-to-date on our latest articles. Scroll up this page to the sign-up field on your right.