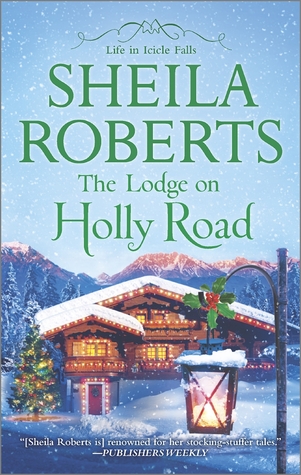 The Lodge on Holly Road reads like a holiday soap opera with nothing but happy endings for the main protagonists. It's a feel good read that fits in with the theme of the season.
Not that it's all fluff and cotton candy. Human emotions, expectations and assumptions not to mention life's dismal realities do tend to give this novel a depth and richness. Most of the heroes and heroines have to overcome issues in order to find the happiness they all hope for in some part of their hearts. It's getting there and how Ms. Roberts navigates the tricky personalities of her characters that made this book an entertaining read.
Like with most soap operas, there are one or two main plots that are highlighted with some background mini plots filling out the tableau, and somehow, they are all interconnected because for a week's time, everyone is together in a very close setting. Not one character remains untouched by what goes on at the lodge.
There are those that start out like Scrooge but in the end show that they are marshmallows inside – while denying it the entire time. There are single moms and dutiful sons, grief and loss and new beginnings. There are kids on the cusp of not believing in Santa and adults who desperately want what the message of the season inspires. There are rich and poor, both in money and in spirit. Ms. Roberts covered all the bases, making The Lodge on Holly Road a busy but thoroughly engaging read.
The one that stood out to me, and I think that was the point, was John Truman. Every single time he did a monologue about his girlfriend, I knew, just knew where it was heading. I also had hopes, which the author gave plenty of hints that it was not in vain, as to whom he'd eventually turn to. The fact that the other lodgers noticed his plight somehow became the glue that touched every other character in the novel in some way and bound them together. His tale may not have started the story right away, but once he was on stage, I could see most of the plot threads being influenced by his actions and his presence.
There are too many heroes and heroines to go through in a review but I'd say they were all well done. The only one I was least impressed with was the romance of Brooke and Eric. Yes, it was sweet and happy but it didn't have the detail nor was it as fleshed out as it could have been to convince me of their falling in love. I think the author was all about the "feel good" aspect of the story and if that was her aim, she was on target. Nothing wrong with that.
If readers are in the mood for a book that embodies the warmth, love and heart of the holiday season, especially Christmas, then look no further than The Lodge on Holly Road. It reads like a yummy dessert, with a crunchy outside and delicious multilayered gooey goodness inside. It's a treat that I recommend for all readers who want a simple but busy character driven romance. The theme might be Christmas but at heart is a universal love story.



Editor's note:
This article was originally published at Long and Short Reviews. It has been republished with permission. Like what you read? Subscribe to the
SFRB's free daily email notice so you can be up-to-date on our latest articles. Scroll up this page to the sign-up field on your right.