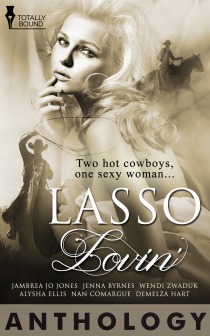 Cowboys are hot, no matter what the era. In this anthology, there are six steamy, sexy stories of cowboys finding the right mix for their 'happy ever after' with that significant pair of partners that completes the circle. Love is love, whether it is modern day, or early western, and these stories focus on the connections between two men and one woman that makes life complete for all three. All six stories have compelling characters, intriguing locations, and even some history between the characters in some way. There are some laughs, some tears and lots of man to man romance, man to woman passion and man to woman to man hotness.
Forever Changed by Jambrea Jo Jones. Tom honors his mother's dying wish, going to meet the father he never knew. What he gets is so much more when he meets Abi and Eric, and has an immediate connection to them both. Discovering that he doesn't actually hate the man who is his father, and that his mother had been in contact with him, is a pleasant surprise for Tom and his father Dan, but it is Eric and Abi who make Tom not want to leave for good. Will Tom accept what is being offered, by his father as well as by Abi and Eric?
Fortune's Way by Jenna Byrnes. When Dean Fortune's father moved away from the ranch, Dean left his not so dream career as a race car driver, and discovered the life on a horse breeding ranch was much more satisfying to him. Didn't hurt that the foreman he hired was gorgeous and hot, and they became lovers soon after. When Dean's father wants to turn the working ranch into a guest ranch, Dean and Kyle have to convince the consultant that is coming to advise something less invasive. When the consultant arrives, she is not what they expected, and Dean falls for her just as quickly as he fell for Kyle. Will these three find a way to save the ranch, and their unique relationship, without anyone being left behind?
Tying One On by Wendi Zwaduk. Trista introduced Ronan and Steve, and knew they were perfect for each other. After all, she'd dated, and loved both of them. Ronan and Steve love each other, but they both agree there is still something missing from the relationship, and they are determined to fix it…with Trista as their 'third'. They both love her, and will do whatever it takes to convince her of it. Can these two hot cowboys convince their former girlfriend to take a chance on them both, together?
Claiming the Cowboys by Alysha Ellis. The last thing Sophie expected when she entered the farmhouse she had inherited was two hot cowboys making love on the couch of her living room. Hamish Maguire and Jackson Blake run a horse stud on the property, and have been leasing it from her grandmother for some time, but Sophie had no idea about it. When she realizes that they are there legitimately, she turns to leave, but the hot vet convinces her to stay the night, as it is too far to drive with night falling. Can these two cowboys convince Sophie to stay and take a chance on both of them, or will she go back to her boring and lonely life in Sydney?
Hard Luck Ranch by Nan Comargue. It's a long way from New York to Desert Rose, Texas. Emma has come to join her husband, a man she has never met, except through letters. Wesley Miller wants a wife, someone to share his life with, while his best friend Everett Montgomery doesn't understand the need Wes has. When Emma meets Wes and Everett, she knows there is something off, but she likes her life as Wes' wife, until she realizes what is missing…Everett. Wes and Everett share a passion for each other, and Emma is determined to bring the two men back together, to bring pleasure to all three of them. Can this unconventional relationship flourish in this Texas small town?
Dust and Desire by Demelza Hart. Traveling from Boston to Albuquerque by train is an adventure for Adeline Monroe. At just eighteen, she is going to visit her aunt and decide what to do with her life. Her father recently passed away, making her a very rich young woman, and she wants to experience life while she is young. When the train breaks down in the middle of the West Texas desert, the passengers and crew are rescued by Chase Truman, son of the man who owns the property the train is passing through. Adeline is immediately attracted to Chase, and he to her. But Chase also has a secret, Riff Felton, a former ranch hand, and Chase's former lover. While out touring the ranch, Chase and Adeline discover Riff up in the cabin on the ridge, and Chase goes to confront Riff, with passionate results. When Chase discovers Adeline's adventurous side, he believes that he and Riff and Adeline could have something special, if he can just convince her to stay on the ranch and become his wife. Can these three come to terms with life in turn of the century West Texas?
Whether it is modern American cowboys, wild west early American pioneer spirited romantics, or Australian stockmen, the passion of two men loving each other and the special woman brave enough to love them both is a hot and passionate reading experience, and these six authors bring romance out in their own special way. If hot ménage is your desire, this one is highly recommended. Very hot, very romantic, and lots of fun as well.



Editor's note:
This article was originally published at Long and Short Reviews. It has been republished with permission. Like what you read? Subscribe to the
SFRB's free daily email notice so you can be up-to-date on our latest articles. Scroll up this page to the sign-up field on your right.