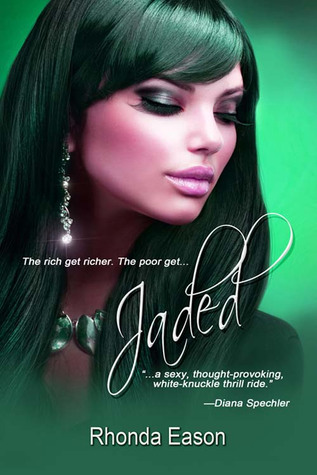 This book has more twist and turns than a Texas twister.
The title of this book is a double entendre/play on words. We all know what Jaded means, but in this case a main character has the name Jade, as well. So, the set up is something like this…
Syeesha has been working hard to get through law school. She has been laid off at the law firm she was working for and so at loose ends she accepts a job making a large sum of money being the assistant to Jade, a woman in the entertainment industry who has become very attached to the lifestyle her husband, a former actor and now a politician, has provided for her. But, Jade's marriage is on the rocks and her husband has her in a bind due to the prenuptial agreement. Jade could wind up with virtually nothing if they divorce and her husband is making noises to that effect. Jade hatches a diabolical scheme to come out of her marriage with all she feels she deserves… and that's where her new assistant comes into to picture.
What a wild story. Syeesha is just at the right place in her life to feel tempted by the lifestyle she sees Jade and her husband living. So, she is also at the right place and time to feel tempted by an incredible proposal Jade makes. Up until now Syseesha has been a good girl, doing what is expected of her. This is mainly because of her upbringing, having been raised by a strict and controlling military father. Syeesha is resentful of her father, but up until now she has stayed on a certain well disciplined path. But, if she agrees to help Jade she could find herself without any financial worries for a long time to come. With no other source of income, law school is out of the question, and she has the roommate from hell. The only positive thing in her life is the guy she is seeing, Christian. But, will she sacrifice Christian, and her moral code, for riches?
A tale of greed, the lure of easy money, the lengths people will go to in order to maintain their wealthy lifestyle, and how it can take over your life until you have nothing left of your soul. This was a very entertaining read and a bit of a cautionary tale too. The ladies will love super sexy and principled Christian, and the ending is a little bit of a surprise. If you like a book that will keep you guessing all the way until the end, steamy romance, and ….. sexy red shoes- don't miss this one.



Editor's note:
This article was originally published at Long and Short Reviews. It has been republished with permission. Like what you read? Subscribe to the
SFRB's free daily email notice so you can be up-to-date on our latest articles. Scroll up this page to the sign-up field on your right.