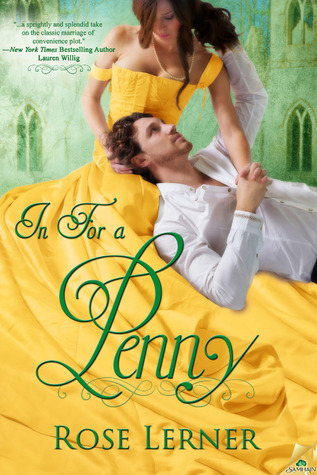 Love was not part of their marriage bargain. Penelope (Penny) and Nathaniel Arthur Delaval Ambrey, Lord Bedlow (Nev) are in agreement. He has her money to save his family from ruin. She has her marriage built on reason, compromise, and mutual esteem, plus she married "up" as her parents had hoped she would, but had not insisted on it. Most of all, they want her to be happy.
Nev and Penny, like Nev predicted, find that they "rub along tolerably" together. Plus, they find passion, something neither of them predicted. They are like two kids with a new toy. They stand fast against adversity together, yet in the midst of all the strife, they find a special joy in their passion for each other. It makes their story sparkle in a unique way.
Penny is a strong heroine. She is fully aware the titled in-laws and their acquaintances hate her, but they enjoy the benefits her money brings. She also knows the poor, mistreated workers hate her because of what she has and who she is aligned with. Yet, she perseveres. She is smart, good with business and budgets. She's truly appalled when she sees how Nev's estate steward keeps books.
Besides knowing money and how to manage it, she has compassion and a forgiving nature. Best of all, she finds joy in the love she never expected to be hers. This creates lots of 'feel-good' reading.
Nev, on the other hand, has been a wastrel all his life until his father dies. He has no money sense or management skills. He is a unique man in that he admits this failing and is delighted for his lovely, responsive wife to help with estate business and every aspect of trying to put his holding back on a solid footing. He has that 'Lordly' air that saves the day at a very crucial time. He uses every skill he knows to control the people who are ready to riot. Yet, he too has compassion for them. He sees how they have suffered under unjust treatment of his father and his peers.
Nev longs for his old carefree life and companions but sticks to his resolve to put all that kind of living behind and to be a responsible Lord of the realm. Moreover, he abides by the list of rules Penny made before they married. Good gracious, she did hit the nail on the head with that list and Nev knows it.
The antagonists are indeed despicable. The avaricious, controlling, conniving Sir Jasper is cruel to the extreme with seemingly no compassion. He is a user and abuser. His toady Parson Snively is his willing partner in abasing the poor workers. He, to me, is worse than Sir Jasper, in that he is willing to use his power as a spiritual leader to crush the poor, disenfranchised workers.
I thoroughly enjoyed In For a Penny because the author wove in the awaking of an amazing, sizzling love between Penny and Nev while surrounding the reader with the social conditions and the disparity in the quality of life for people of peerage and the laboring people.
The climax is a breath-holding, page-turning read. I stayed up past late to be sure Penny and Nev got their happily-ever-after, that the bad guys got their comeuppance, and the down trodden got some relief and hope for the future.
Editor's note:
This article was originally published at Long and Short Reviews. It has been republished with permission. Like what you read? Subscribe to the
SFRB's free daily email notice so you can be up-to-date on our latest articles. Scroll up this page to the sign-up field on your right.