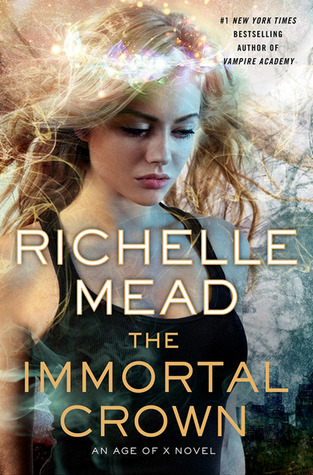 Religion and the practices associated with it are highly regulated in the RUNA. So what are praetorian Mae Koskinen and servitor Justin March to do when their jobs take them into a neighboring country whose government is completely based off religious practice? It's safe to say that their adventure has only just begun.
In this second installment in the Age of X series, we see the return of Justin March, religious investigator for the RUNA's government. I've loved Justin from the moment I first met him in the last novel. Although he hasn't changed his wild and immature ways, he's still the same, charming man determined to do whatever it takes to not pledge himself to Odin. However, he does have a great deal of personal growth throughout this novel, a lot of it due to the influence of Tessa, the Panamanian teen he brought home with him in the last novel. Her influence combined with that of Mae and Justin's sister come together to make him a better, if not less flawed, man.
Mae undergoes a lot of challenges in this novel. Being brought into a country where women are devalued to the point of being worthless, she struggles with keeping her opinions in check and wanting to save every last woman in Arcadia. Her time in Arcadia was probably the most interesting storyline for me. To watch such a strong and independent woman play at being helpless was exciting and also a bit sad. However, seeing her and Justin connect on a more emotional level was worth it in the end.
Two characters introduced in the earlier novel also came back to play, Tessa Cruz and Lucian Darling. This made me very happy because Tessa is lovable and intriguing from the get-go. I enjoyed getting to know her better and watch her learn and grow in the RUNA. Lucian, on the other hand, fascinates me. He seems to teeter between being wonderful and amazing all while having the potential for not so great things. I'm still betting that he's a good guy at heart, but there's still that chance he might go to the dark side when we're not looking.
The Immortal Crown ends leaving you with more questions than answers, but in a good way… if such a thing truly exists. I was shocked and surprised, but also very eager to see just how Justin and Mae are going to deal with all that was revealed at the end. If you have to leave the reader with a cliffhanger, this is exactly how you need to do it – leaving the reader both angry and obsessed with knowing how it's all going to play out.
Editor's note:
This article was originally published at Long and Short Reviews. It has been republished with permission. Like what you read? Subscribe to the
SFRB's free daily email notice so you can be up-to-date on our latest articles. Scroll up this page to the sign-up field on your right.