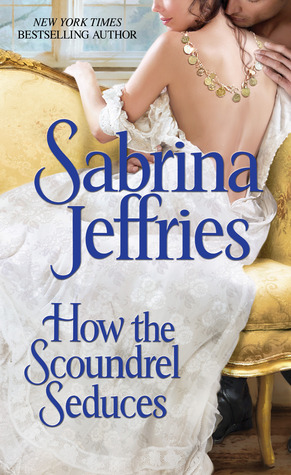 How the Scoundrel Seduces is a wickedly tangled weave that delighted all my senses. As the story unfolded, I was shocked as to the extent of the poison the villain wielded and I became quite bloodthirsty in wanting his comeuppance. Ms. Jeffries has a devious mind because I had to wait and watch the drama and suspense affect Zoe and Tristan throughout the tale and I couldn't put the book down.
This novel is a standalone read but I do encourage readers to read the previous two books in the Duke's Men series, What the Duke Desires and When the Rogue Returns, because the deeds of the villain's treachery tainted all of them. When the ultimate confrontation occurs in How the Scoundrel Seduces, it's made that much more powerful by my having read the previous two. In fact, it turns out that there was an unknown victim and tragedy that was perpetrated and it broke my heart.
There is a secret that the blurb mentions about Zoe. What astounded me was the connection it forged with the first book in the series. Even though the Ms. Jeffries does include enough back story for a new reader to understand and follow the current plot, readers and fans of the series will find it especially intriguing because it means the author had to step back and create this whole world while keeping the underlying thread and its effects woven throughout. I'm impressed because she succeeded wonderfully.
I enjoyed Mr. Keane. His character kept me guessing because I didn't know if he was a good guy or a meanie. He was sharp and I kept thinking he'd be a great asset to the Duke's Men and then I would question his motives and start worrying for Zoe all over again. Jeremy Keane was a wonderful foil that kept me guessing.
The romance between Tristan and Zoe was full of spark, sauce, sensual seduction and fun. It was a delight to watch their love grow. Of course, one of them was a bit clueless what being in love was all about. It was sweet to see how it all resolved.
Secondary characters were important and made this book feel like I was living in a second world. It helps that the previous heroes and heroines from the first two books pop in to help out. In fact, there are these constant digs directed at Dom about someone named Jane that turns the man into a prune. If the author's intent is to wiggle a juicy bookworm in front of me, rest assured, I've taken the bait. It sounds like a story that needs to be told – if only because Dom is the last bachelor standing. We can't have that now, can we? *grin*
The happy ever after was wrapped up with surprising poignancy. I never expected it to take the turn it did and because of it, it elevated this story from a good read to a really good read. As hard as the act of forgiving is, the benefits are definitely felt by both the characters and me. It was rather emotional.
How the Scoundrel Seduces captures a reader's imagination and takes them on a journey of discovery, intrigue and romance. It's a well written story that is sure to entertain if only because Tristen and Zoe are wonderful together. To historical romance fans and readers of Ms. Jeffries' books, I definitely recommend reading this, her latest novel. She has another winner.



Editor's note:
This article was originally published at Long and Short Reviews. It has been republished with permission. Like what you read? Subscribe to the
SFRB's free daily email notice so you can be up-to-date on our latest articles. Scroll up this page to the sign-up field on your right.