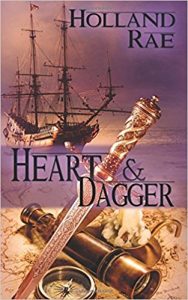 The series was definitely launched with a substantial start. Heart and Dagger is book one in The Ships in the Night Series and introduces the heroine, Lady Charlotte Talbot, also known as Catalina Sol. Catalina took in strays and runaways while purposely forgetting her past, which became impossible when she ran into the hero, Armand Rajaram de Bourbon whom she's known since her childhood. Armand has a story of his own and when mixed with Catalina's it made for an interesting debut for a new series. I enjoyed getting to know several of the characters since they were well developed, relatable and likable. I am hoping there will be a story for Catalina's sister, Eliza and Armand's brother, Henry, in the future.
When the synopsis mentioned that Catalina captained a ship, I was intrigued. That sounded unique and like something I'd like to read in a romance book. It turned out to be a fun and entertaining read. I enjoyed Catalina's strength and her courage to make difficult decisions, ones that maybe would endanger her or her loved ones. It was refreshing to read a leading heroine that was confident, smart and yet could be a refined lady if she needed to be. It made her irresistible in not only in Armand's eyes but in my eyes too. I appreciated the writing attempt in using Armand to bring out the sweet and vulnerable side in Catalina. I respected Armand's ability to trust Catalina and let her lead yet still be in protection mode. It was a fine line for him to walk and the author did a wonderful job exemplifying that fine treading. Armand and Catalina clicked together like a fine tuned piano and together they made harmony. I enjoy knowing their relationship was healthy in the chemistry department. I was secure in the knowledge that they would eventually achieve a happy ending. Armand was a dream-worthy hero.
This was a great book to escape into while I sat in the car for eleven hours traveling home for Christmas. The plot was riveting; between the kidnapping, pirates, blackmail and the budding romance, I forgot I was stuck in holiday traffic since I was too busy flipping pages to find out what was going to happen next.
Heart and Dagger was well written and its conclusion left me with a happy book glow. I especially loved the epilogue. It is my pleasure to recommend this book.
Editor's note:
This article was originally published at Long and Short Reviews. It has been republished with permission. Like what you read? Subscribe to the
SFRB's free daily email notice so you can be up-to-date on our latest articles. Scroll up this page to the sign-up field on your right.