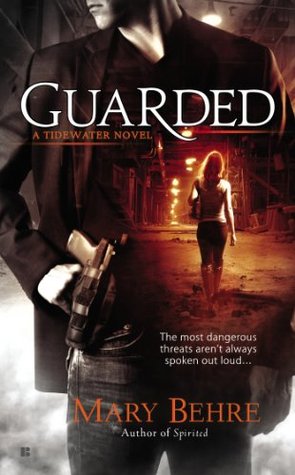 This book surprised and confounded me. When the villain was revealed you could have put an apple in my mouth and knocked me over with a feather because I was so stunned, all I could do was gape and stare. AWESOME!
Guarded picks up where Spirited left off – with another sister discovered. The Scott sisters have some unique paranormal gifts. Although these types of gifts have been used before in other romances, Ms. Behre has placed her own imaginative and creative mark on them. This time around it's being able to speak to animals and it comes with all the mayhem and unique crises that can arise from it. It made perfect sense to me that Shelley was a veterinarian.
Even though I didn't rate this story quite as high as the first book, which continues to blow my mind when I remember how cool it was, Guarded is still a high recommend. I think I was confused quite a few times because there was SO much action and frenetic responses to the drama and suspense mixed in with a rather large cast of characters, I found myself lost on just who was who speaking to whom and doing what. It caused me to reread parts just to get it straight.
There is no doubt in my mind that readers who enjoyed Spirited are going to be equally enthralled with Ms. Behre's latest mystery. There are red herrings and villains who they'll figure out but it's the one that remains a true mystery until the big reveal that could leave them as amazed as I was. The intricate web of revenge the author wove is truly mind boggling because now that I know the end results, I remembered certain 'meaningful' moments that actually had a more profound impact than what I initially read. Being able to weave those kinds of details in is talented writing.
Part of a diabolical mystery is the fact of casualties. I almost stopped reading this book because of one certain death. The author had introduced a character that she imbued with enough heart, dreams and the feelings of strong emotion that when the secondary character met a bad end, I was heartbroken. It affected me greatly. You do know what that means, right? Ms. Behre did her job. If the character was a one dimensional throwaway person, I wouldn't have cared. I would have shrugged and say, "Okay, that's just to show how far the bad guy will go," and that would have been that. Instead, I was so shocked I almost couldn't go on. But of course, I did … a couple of weeks later, but I did restart reading. I'm very glad I did. The death was not in vain and for that I applaud the author. From that point on, the action and pace picked up even more and I never stopped reading until the end of the epilogue. Guarded is a mind bending roller coaster of a read.
Remember earlier I said that I was confused because of too many characters on scene? Wait until you get a load of Ryan and Ian. There was something about those guys that intrigued my 'yummy meter'. I cracked up when a monkey took something away and their reaction to the zoo situation was priceless. They are two secondary characters that would make ideal heroes in future books. I hope they do. I liked meeting them, even if so briefly and during so crazy a pace. Then, there is Seth and Jules from Spirited, and the sheriff and other town characters and talking animals and the cutest ferret I've ever read about. It's quite the menagerie but every single person or animal, or ghost, played a role that was pivotal, sentimental, sweet or surprising, not to mention fascinating.
Here is where I must thank the author profusely. She made her male characters smart. And I mean awesome smart, quick on the uptake, it's a clue and they GOT IT, smart. I knew what happened to Shelley. I understood it immediately but she brushed it off. I was yelling at her, "No! Don't just disregard this, it's a clue, you have a clue!" But of course, she can't see what a reader can see. But the guys did. I was so happy that I wanted to hug all of them. As it was, I did a happy chair dance. Because one was a marine, the other a cop and the other, I think a P.I., the author had them living up to their professions. I am impressed. They were heroes!
There is so much more to talk about but I have to reign myself in. Guarded is definitely a standalone story, it has a sweet happy ever after, it has some hot and sexy exchanges between Shelley and Dev, and it ends with a perfect hook. Of course it won't come as a surprise that they get a lead on Shelley and Jule's final sister but it's the other discovery they made in this novel that indicates that this may not be the end after all. And that's a wonderful thing. This really has been an amazing series so far and I highly recommend reading both Guarded and Spirited because they are both excellent reads. True keepers because their stories are so chock full of details and dialogue, I'm sure I missed something the first time around. This is worth re-reading, guaranteed.
Editor's note:
This article was originally published at Long and Short Reviews. It has been republished with permission. Like what you read? Subscribe to the
SFRB's free daily email notice so you can be up-to-date on our latest articles. Scroll up this page to the sign-up field on your right.