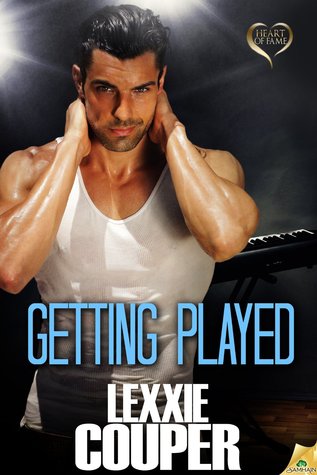 Getting Played is the latest episode of Lexxie Couper's Heart of Fame series, and the hottest one yet. I like this world Ms. Couper has built, and the people that inhabit this world.
Time is running out in the search for a replacement for Nick Blackthorne. Synergy has just a few weeks left to find someone at least as talented as Nick, or lose the chance at the movie theme song they are supposed to record. Keyboard player Jax Campbell steps up and takes one for the band by offering to contact the one woman from his past that he has never completely forgotten…Natalie Thorton, Dean of the Sydney Conservatorium of Music. The history between these two is hot in the extreme, and they parted on less than amicable terms, so Jax isn't sure how this will play out. But he has to try, because if anyone can find a singer for them, it will be Nat. Natalie has never forgotten Jax, and despite the past, she agrees to help him, by issuing a challenge…for every suitable candidate she proposes, Jax will provide her with an orgasm. Nat convinces herself that it is only sex, and sex with Jax was the best and most exciting she ever had. As for Jax, Nat is the one he never quite forgot, and he remembers all the passion of their past. But these two forgot to tell their hearts to stay uninvolved, and that is when it gets hot. Can Nat find that elusive someone that would be the perfect singer for Synergy, without falling in love with Jax? Will Jax discover his true feelings for Nat before he loses her yet again? Can these two learn that while the sex is fantastic, adding love to the mix makes it even better?
It has been an enlightening and entertaining journey in a search for Nick Blackthorne's replacement, a task that quickly becomes nearly impossible. With this book, I enjoyed the rock star antics of Jax Campbell, as he comes to realize that there is more to life than just playing around, and Natalie learns that being serious all the time isn't for her at all.
Jaxon 'Jax' Campbell is the epitome of the rock star bad boy. Handsome and sexy, he has literally slept his way around the world. He thinks love is overrated and not in his plans, but then he sees Natalie again, and suddenly he is thinking of things he never knew he wanted. When Nat challenges him, he accepts her terms, but plans to get his own way too. I liked watching as Jax finally grew up and discovered what was important in his life, and how far he would go to get it. He has to face the real possibility that he has lost the one good thing in his life, Natalie's love, in order to finally open his heart to all love offers.
Natalie 'Boxhead' Thorton is smart, funny and very determined not to lose her head, or her heart, to Jax Campbell again. She comes up with her challenge as a way to show Jax he has no hold over her heart, and she thinks she can forget the past and just use him for some outstanding sex, then walk away. I liked Natalie, with her serious persona and her naughty inner vixen. I like that she was adventurous and able to match Jax at every turn.
Watching these two is like watching a classic romantic comedy; every time you think you know what is coming, one of these two people throws a curve and off they go on another adventure in sensuality. I especially liked the scene in Natalie's office, featuring the Federal Minister for the Arts and Culture, Natalie, and a naked Jax under the desk. Very hot and totally hilarious at the same time. There are many such scenes, and many unique places for Nat and Jax to visit and enjoy. The big question…do they find the replacement that this whole adventure was set up to find? No spoilers from this reader, this is one that has to be experienced to be appreciated. This is best read with the AC on high cool, and plenty of iced drinks to be had. Oh, and check out Jax's tattoo, too.
Editor's note:
This article was originally published at Long and Short Reviews. It has been republished with permission. Like what you read? Subscribe to the
SFRB's free daily email notice so you can be up-to-date on our latest articles. Scroll up this page to the sign-up field on your right.