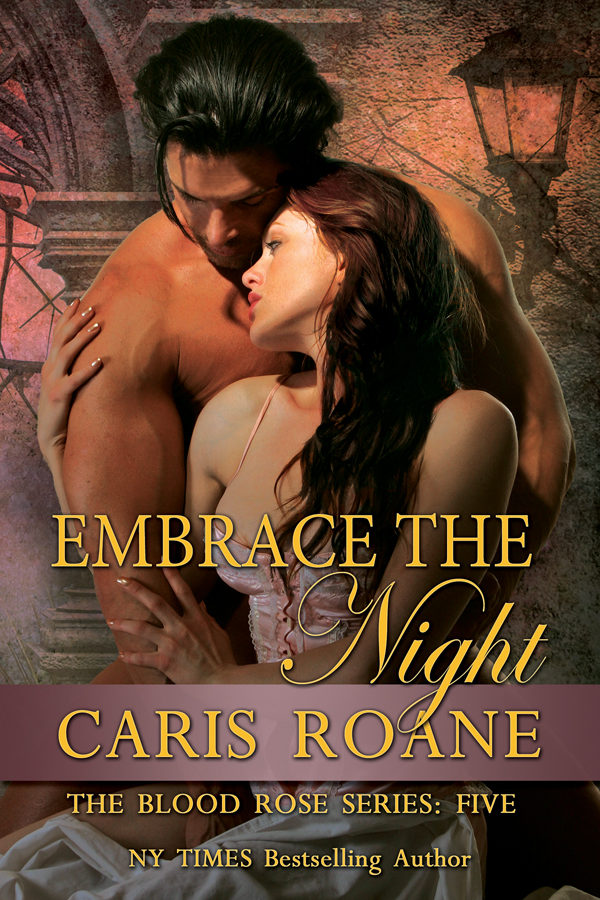 There is something compelling about this series that keeps me coming back for more. Ms. Roane has created a world that mixes a drop of contemporary with a whole lot of 'other' and comes up with a new and fascinating twist for the vampire romance genre. So far, I've read every short and novelette that she's written regarding the nine realms and none have let me down.
First, Embrace the Night is a standalone. There are some references to characters that I've met in the past but they show up like listening to a one-sided telephone conversation; they provide clues and information but don't interfere with the main focus of the story: the romance between Mastyr Jude and Hannah.
The talent that Ms. Roane wields is formidable. Every story, no matter the length, always makes me feel like I got a full story, complete with emotional and sentimental undercurrents, action, drama, some humor, amazement and even some very sexy loving – emphasis on sexy. This tale is no different. The hero has experienced loss in the past that hurt him so bad, he's adamant that he'll never succumb to love again. The heroine is a woman who prides herself on her independence and is doing fine but finds herself wanting something that she should not, Jude. When they get together, passion simmers and pops until they succumb and something is unleashed that catches them both by surprise. What happens then is a journey. Jude and Hannah have to balance their newfound knowledge with finding acceptance in their new roles. What complicates the matter is the villain.
The villain and her horde are not explored too thoroughly here. That was done in Embrace the Mystery when the 'who' was finally revealed. In this story, enough is shared with a new reader to understand the danger without making a reader feel lost. The powerful fae sends a new kind of threat to attack Jude's realm and the menace becomes personal when she targets Hannah. Jude has to make a choice, embrace his potential relationship with Hannah or lose her forever. Hannah has to decide how much her independence is really worth and what is she willing to lose to keep it. Both internal conflicts play nicely off of each other and provide a wonderful backdrop for an adventurous, romantic novelette.
The secondary characters that come to play are always interesting, helpful and give flavor to the storytelling. The one component that I believe the author relies heavily upon is Davido and his wife. They are nice people and interesting but they are a powerful couple who the author has used as a tool to get her main protagonists from point A to B. I believe that they are the glue or the facilitators that allow such short stories to flow in the cohesive manner I've come to expect. Not that it's a bad thing, far from it, because it works. However, sometimes it comes across as too perfect or too helpful and I had a sense of that in this story. Then again, it's also a way to keep the angst level low and the reading enjoyment high and smooth flowing. It's a tricky balance.
Embrace the Night is a must read for vampire romance fans that are looking for something new, vibrant and fascinating. The concept of the Blood Rose is intriguing and the world Ms. Roane has created is full of nuances, fantasy folklore characters, vampires and lots of dire and interesting predicaments. Hannah and Jude made for a wonderful couple and their romance was delightful. If a reader hasn't had the experience of reading this series before, this is a fun one to start off with. If anything, it might even intrigue a reader enough to read the previous books in the series. And that would be a great thing because a couple are even better than this one. Which is me saying – go forth and read. The Blood Rose series is pure entertainment and Embrace the Night is a great addition to the tales of the nine realms. I'm glad I read it.



Editor's note:
This article was originally published at Long and Short Reviews. It has been republished with permission. Like what you read? Subscribe to the
SFRB's free daily email notice so you can be up-to-date on our latest articles. Scroll up this page to the sign-up field on your right.