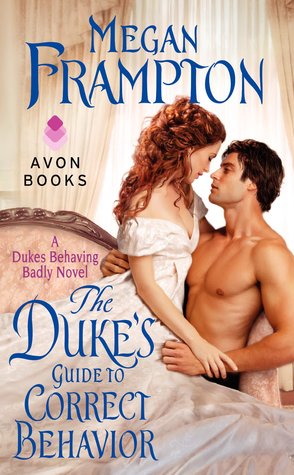 Poor Marcus! The newly titled Duke of Rutherford is bored and dissatisfied with his new station in life. Another night of debauchery has left him cold, and wanting a purpose, something other than acting ducal, marrying the proper person, and producing little dukes-to-be. He was third in line to inherit the title, and never expected that it would come to him. Just as Marcus is contemplating the direction his life has taken he's presented with a real game changer. His daughter, Rose. Years ago, Marcus had a liaison with Rose's mother, Fiona. Fiona has now died, and Rose has been sent to her father. He decides to keep Rose with him for now, and to hire a governess.
Lily Russell and her friends are trying to make a go of their new employment agency. When a request comes from the Duke of Rutherford, she knows this could be the making of them, if they are successful. Lily decides to take the position herself. When she meets the duke, she is immediately attracted to his good looks, and she loses her heart to the shaking, frightened little girl. Marcus is attracted to Lily, as well, but he's come to the decision that he must change his ways, and certainly can't have a relationship with his daughter's governess. Of course, their close proximity and their chemistry play havoc with the best laid plans.
At first I decided that I didn't like Marcus. There were specific reasons I felt that his character was beyond redemption but to explain would give away pivotal points of the story. However, Marcus' heart melts almost from the beginning as he meets his daughter, and against what's normally done, he brings her into his household. His desire to change his lifestyle and become a better person and a good father are admirable. The child, Rose, is a sweet and lovable character, without stealing the show. Lily is a likable character from the start. She's funny and caring, yet sensible. I adored the witty encounters between Lily and Marcus, as well as their fascination with each other.
I love governess stories, and this one had more obstacles to a happy ever after than most. Society frowns upon nobles making unequal matches, and Lily is hiding a secret that makes her even more unsuitable. It's also not the thing to keep your illegitimate child in your household. The way this was resolved with a grand gesture at the end was romantic and swoon worthy. This was my first book by Megan Frampton, and I will be sure to check out her back-list, and future releases. If you enjoy humor, redemption, and emotion in your romance, this book fits the bill, and I heartily recommend it.



Editor's note:
This article was originally published at Long and Short Reviews. It has been republished with permission. Like what you read? Subscribe to the
SFRB's free daily email notice so you can be up-to-date on our latest articles. Scroll up this page to the sign-up field on your right.