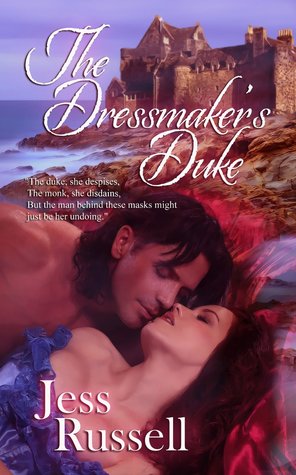 Just – Wow! I am in awe of this wonderful book. I'm one of those people who has to be dragged kicking and screaming to try a new author, as I'm frequently disappointed. The blurb for this book sounded intriguing, so I decided to give it a try. This is the story of the Duke of Roydan, Rhys Merrick, who is described as monkish, rather than rakish, (a welcome change from the norm) and widowed dressmaker, Olivia Weston.
Olivia is currently in a sad financial state. The Duke of Roydan has dismissed his former mistress, and five gowns that she commissioned from Olivia remain unpaid. In desperation, Olivia goes to the duke's residence to demand payment. Initially he has no intention of paying, but he is so affected by Olivia that he agrees. His intent is to just get rid of her, but after she's gone, he finds himself tracking her down. Rhys can't really understand his reaction to Olivia, but he can't seem to stay away. After several encounters, he makes her an offer to be his mistress, which she turns down. Soon, a disaster destroys Olivia's shop and all her possessions, leaving her with nothing, and sending her to the duke to accept his offer if it's still available. This is where we start to see how damaged Rhys really is. His story is enough to break your heart. The only love he ever knew was from his mother, who died when Rhys was very young, leaving him at the mercy of his cruel, abusive, and perverted father. Everything done to him shaped him into the quiet, controlled, and monkish man he is. Despite being damaged, he only treated Olivia with generosity and kindness. Olivia also suffered abuse, and is hiding secrets about herself. She finds herself falling in love with this good, but strange man who is totally beyond her reach. Yet, in her heart she wishes he would defy convention and offer her marriage.
Jess Russell has written this story and these characters so skillfully that my heart broke along with theirs. I felt the impossibility of their situation, and wondered how on earth it would ever work out. I cared for them, and I literally could not turn the pages quickly enough. Everything about this book worked for me – the characters, the plot, the conflicts, and a happy ever after that was sweet indeed. It's hard to believe that this is a first book, it's that good. This will be in my top ten books for this year, and I am very much looking forward to future books from Jess Russell. If you enjoy exciting, emotional stories with damaged heroes and heroines, this is the perfect one for you.



Editor's note:
This article was originally published at Long and Short Reviews. It has been republished with permission. Like what you read? Subscribe to the
SFRB's free daily email notice so you can be up-to-date on our latest articles. Scroll up this page to the sign-up field on your right.