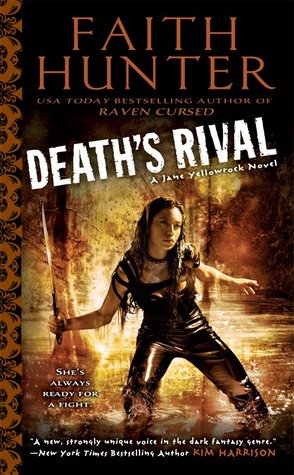 Life gets really weird when vampires start bleeding out. Jane Yellowrock is the enforcer for the Master Vampire of the City of New Orleans. When other master vampires start dying of a disease that causes them to bleed profusely, Jane is dispatched to try to find the source. She discovers that an old enemy of Leo's is trying to take his place and doesn't mind killing anyone that gets in the way. Caught up once again in a world of politics, secrets, and lies, Jane is always a step behind and may finally be betrayed by those she trusts.
Death's Rival is the fifth book in the Jane Yellowrock series by Faith Hunter. Each book could be read as a stand alone and DR is no different as there is more than enough background to catch readers up but as with any series, reading from the beginning will deepen the understanding of the characters and plot. Ultimately it's best to read all the books in order to get the most enjoyment out of the series. Here in the fifth book the action stays high and Jane seems to be losing friends and lovers at a fast rate. The plot is engaging and the mystery is pretty good. There aren't enough clues to guess the twists before they happen – and there are numerous turns in the plot, which keeps things exciting. The unknown disease angle is unique and inventive, though it does kind of disappear towards the end of the book with so much going on.
The greatest aspect of the story, however, is Jane's connection to the people around her. I really quite liked this book in the series and found myself oddly sympathetic towards Jane and her struggles. She has way too many men around her and her inner beast apparently claims them all, which had me rolling my eyes once too often. Additionally Jane acquires two new men for her business of enforcing vamps and I really liked their personalities. I hope they stick around and the older one is not interested in Jane. I had some qualms with how Jane acted around Bruiser in this one. Not to give spoilers but I felt as though she was constantly in heat around him, often ignoring very perilous circumstances. She also never really got mad at him even though it's well beyond justified. I loved how the book ended, kind of a cliffhanger but kind of not, because it sets up a lot of tension for the next book.
As part of the series, Death's Rival fits in really great. There is further characterization in some really interesting ways and the men around Jane continue to grow and become more than just another man in love with her. The plot is solid and acts as an engaging backdrop to the personal and political drama that makes up the world building around Jane and the vampires. The series continues to build tension and create road blocks the characters will have to tackle in the future so it makes me eager and curious to continue reading. This is one of the more interesting series I've read in a while and I'm just as invested as I am in the Mercy Thompson series. So fans of MT should definitely give this one a try. Those who already read the series should eagerly dive into Death's Rival, it's that good.
Editor's note:
This article was originally published at Long and Short Reviews. It has been republished with permission. Like what you read? Subscribe to the
SFRB's free daily email notice so you can be up-to-date on our latest articles. Scroll up this page to the sign-up field on your right.