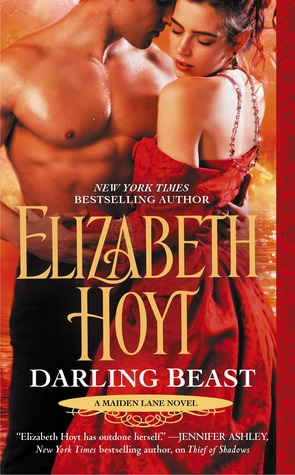 Actress and single mother Lily Stump had only one theatre where she could perform. When that theatre burned down, it left her in dire straits. Until it's rebuilt, she has no income, and, so is living with her son and servant in a few of the rooms left standing and barely habitable. Her son, Indio, enjoys playing on the grounds, and has become fascinated with the man in charge of designing the gardens. This large, mute, man is none other than Apollo Greaves, Viscount Kilbourne, who is there to hide out, as he's a wanted man. Years ago, Apollo was falsely accused of murder, and then committed to Bedlam by a relative. He was all but starved there, and horribly abused. As he tried to help a fellow inmate from being attacked, he was beaten and had his throat crushed, and has been unable to speak since. He later was aided in escaping from Bedlam, and he came here to his friend and business partner to seek refuge.
The little boy, Indio, tells his mother that he has seen a monster in the gardens. He's referring to Apollo, with his great height, huge shoulders and craggy features. Lily goes to investigate and encounters Apollo, who can't speak in order to answer her questions. She believes him to be dimwitted, but soon comes to believe him harmless, and Indio invites him for dinner. Eventually, they develop a sort of friendship. As Lily and Apollo become more familiar with each other, they discover that the other has secrets and hidden depths. This unlikely couple has an explosive chemistry and they become lovers. I am a sucker for someone who has been falsely accused and imprisoned. Despite all he has endured, Apollo has retained his humanity. He is loving and gentle with Lily and Indio. He has an artistic soul, and is pouring it into the creation of the new theatre's gardens. He wants to regain his life, but not for the sake of becoming an idle aristocrat. He has humor and honor, and I half fell in love with him myself. Lily is smart, loyal, and strong, but not hard. Their love story was beautifully developed and romantic, while the mystery of who framed Apollo had me reading as fast as I could to see the resolution. Elizabeth Hoyt also includes a little snippet at the beginning of each chapter. It's usually part of a fairy tale, which parallels her story. These snippets are well thought out, and add to the enjoyment of the book. I found myself looking forward to the resolution of the secondary story almost as much as the first.
I highly recommend this stellar addition to the amazing Maiden Lane series. If you like books with characters who are a cut above the ordinary, breathtaking romance, and page turning excitement, this beast may be just what you're looking for.



Editor's note:
This article was originally published at Long and Short Reviews. It has been republished with permission. Like what you read? Subscribe to the
SFRB's free daily email notice so you can be up-to-date on our latest articles. Scroll up this page to the sign-up field on your right.