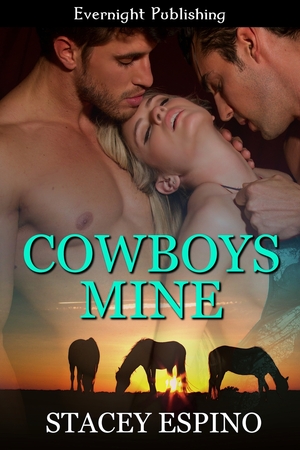 Eva Ford has known Colton and his twin brother North McReed her whole life. Neighbors in the small farming town it was impossible not to grow up in each other's pockets. Colt and North were worse than overbearing pseudo-brothers, they were like massive watch dogs, attentive and seriously over-protective. When Eva enters two cows into a competition with the chance to win fifteen hundred dollars she sees it as her ticket to a weeks freedom in the big city. When Colt and North find out, though, they're determined not to let her out of their sights. Eva's big adventure begins.
This novel is a strongly character and plot motivated story. While the sex scenes are intense and erotic I was really impressed by the depth shown in the three main characters, Eva, North and Colt. The author spent a good amount of time introducing these three, explaining their situation and setting the scene. I was totally hooked on Eva's bid for freedom and the controversial home life of North and Colton. By the time they became intimate I was seriously invested in them all and eagerly turning the pages.
At times I felt Eva was an incredibly sheltered twenty two year old. Although Colt and North were certainly over-protective and along with her parents culpable of sheltering her, I still thought Eva acted extremely young (maybe too much so) for her age. This grated me with some of her actions, like getting involved with the first cowboy she came across, being dazzled and totally excited simply by being taken out to dinner and not expecting there to be consequences, and finally running away in tears at a climactic moment all made her seem quite young and innocent. The fact this was miraculously shed the instant she became intimate with the twins seemed a little too unbelievable considering her past actions. While I wanted to roll my eyes at Eva a number of times she was still very sweet and an interesting character.
The romance between Eva and the twins was a slow, wonderful progression. Readers looking for a quick-moving, steaming hot sexy book might find themselves a little let down. But I prefer to read stories like this, where the characters and plot are more in-depth, even when the romance moves at a slower pace. Some of the speech is a little flowery for my personal tastes ("given him the gift of her virginity… a prize above all others…") but overall I thought this was a sensual, character-rich cowboy romance novel. I'd recommend this for readers who like a bit of spice in their romances, threesomes or strong cowboy novels.
Editor's note:
This article was originally published at Long and Short Reviews. It has been republished with permission. Like what you read? Subscribe to the
SFRB's free daily email notice so you can be up-to-date on our latest articles. Scroll up this page to the sign-up field on your right.