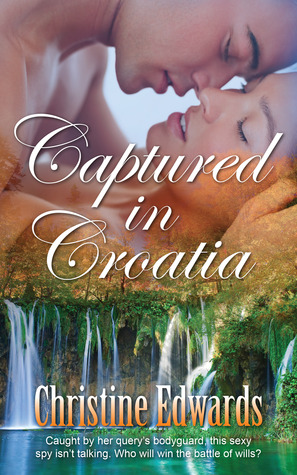 This sneaky cat burglar is about to meet her match in wit, skill, and determination. Zoran is like a bulldog with a bone. He smells something funny going on and he's not about to get duped by the far-too-attractive female his boss has his eyes on.
A gun for hire, Zoran has done some things he's not overly proud of. But one thing he does pride himself on is ferretting out the truth. He's never shot anyone who didn't deserve it and he's not about to start now. When his suspicions prove right and he discovers that the resourceful woman has not only gotten the drop on his Casanova boss, but has also made off with some documentation from Juric's files, he's determined to apprehend the sly girl and find out what's going on. While his boss expects him to "eliminate" the problem, Zoran can't bring himself to kill her. Something about her sparks more than just his curiosity about what she's after. And truth be told, he really doesn't like Juric anyway.
Carew senses she may be in over her head when she meets Zoran's assessing gaze. His presence makes her uneasy and she has a feeling he's going to make her job difficult. Nothing seems to get past his scrutiny. Everything about him screams virility and were circumstances different, she might even be tempted to explore her attraction a little further. But as it was, she had a job to do and Zoran was not in her plans. Juric was suspected of stealing her client's design and it was her job to find the proof. All she needed to do was get inside his multimillion-dollar mansion, put him out of commission, and hack into his computer. It sounded easy enough for someone with Carew's expertise. Any other time, it would have been. Unfortunately, she'd never encountered a body guard like Zoran before and he had no intention of making anything easy.
Ms. Christine Edwards has penned a deliciously dangerous and tantalizing tale of burglary gone horribly wrong. While Zoran could certainly have handled things differently when he caught Carew—most body guards in his position probably would have—the way he responded is what set him apart and made me take a harder look at his underlying character. While he first comes across as a typical thug working for a rich man used to getting his way and cutting down anyone in his path, there's a lot more to Zoran that meets the eye. I didn't necessarily agree with all his methods of extracting the information he wanted from Carew, but he lacked any real maliciousness behind his actions. I think he was at a loss as to how to deal with her. She was completely unlike any of his other adversaries, and deep down, he really didn't want to hurt her. As the days pass, it becomes obvious that Zoran is keeping Carew alive for more reasons than just to get information out of her.
The story is told in first person and switches between Carew and Zoran's point of view. At first, it was a bit awkward as I haven't read too many books in first person, but as the story progressed I found myself getting into the characters' heads a little easier. It actually ended up being a nice change. Overall, I really enjoyed Captured in Croatia. I guess I've always had a propensity for tales about capture and forced seduction. Call me deviant, but I like the old bodice-rippers. Captured in Croatia, to me, was a bit like a modern-day bodice ripper. While Carew isn't the typical weak female—she's skilled in martial arts and can certainly take care of herself—Zoran pretty much renders her helpless, leaving her almost defenseless against his intentions. Most women in her situation would probably have resorted to tears and begging, but Carew is very strong-willed and it takes a lot for her to finally give in. I think this only sparks Zoran's interest even more. He's not used to being defied and Carew's insistence on disobedience really gets to him.
In this test of wills, who will break first? Captured in Croatia offers an exciting read filled with the thrill of being captured, the eroticism of bondage, and the titillation of forced seduction. I'm not talking rape. Zoran doesn't do anything to Carew that she doesn't want, no matter how much she'd like to deny it. I thoroughly enjoyed the story from start to finish. It had a nice hook at the beginning and a completely satisfying end. It was well worth my time.



Editor's note:
This article was originally published at Long and Short Reviews. It has been republished with permission. Like what you read? Subscribe to the
SFRB's free daily email notice so you can be up-to-date on our latest articles. Scroll up this page to the sign-up field on your right.