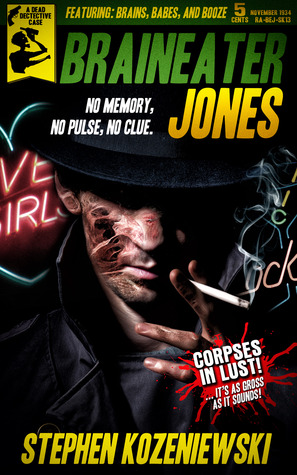 The only thing worse than being murdered is waking up the next day with no memory of who you are or why there's a gaping hole in your chest.
It took a little while for the character development to start happening in this book, but once it did I was glad for the delay. Building up such detailed descriptions of the personalities of the people involved first made their evolutions even more rewarding than they would have been otherwise. There were several developments that I didn't see coming, especially when it came to the main character's quest to discover his past.
One of the many mysteries that Braineater Jones has to unravel during the course of his adventures is who he was before he died. It was fun to see him slowly gather clues about his past, but I would have preferred for him to have a more humanizing undead name as he did it. I understand why the author wanted to start off with a character who has had literally everything from his former life stripped away. The name Braineater was too campy and distracting for my tastes, though. Braineater had some surprisingly empathetic streaks in his personality, and he deserved a zombie name that better represented that.
Mr. Kozeniewski has a tongue-in-cheek writing style that works incredibly well for this kind of tale. I didn't read the first chapter so much as I absorbed it. Sometimes he made me laugh, cringe, and then gasp within a matter of minutes. This was my first introduction to his work. Based on how much I enjoyed it, I'll be keeping a keen eye out for what he comes up with next.
I strongly recommend checking out the glossary at the end of this book to anyone who isn't familiar with 1930s slang. While I knew many of those terms already, it was also helpful to look up the zombie-related jargon that is specific to this universe. Including the glossary was a great decision, and I'm glad that the author alerted me to its existence in the foreword.
Braineater Jones is one of the most entertaining horror novels I've read in 2014. This is a great choice for anyone in the mood for a genre-busting thriller!



Editor's note:
This article was originally published at Long and Short Reviews. It has been republished with permission. Like what you read? Subscribe to the
SFRB's free daily email notice so you can be up-to-date on our latest articles. Scroll up this page to the sign-up field on your right.