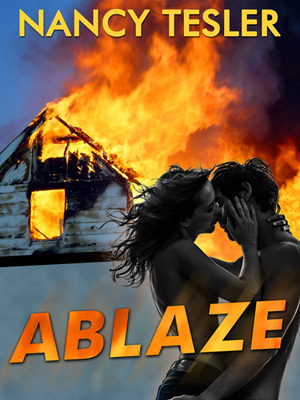 The title says it all! This book sizzles with suspense, mystery, drama and steamy romance. Samantha and Douglas are white hot together. When a young girl needs help, Samantha and Douglas team up once again to expose a deadly religious cult.
Samantha almost lost her career because of Douglas. He's the last person on earth she ever wanted to work with. Douglas did what he could at the time to keep things from completely derailing her career, but it's obvious Samantha hates him with a pink, orange and purple passion. These two just can't keep from getting under each others skin. Douglas deals with his frustration by being sarcastic and Samantha closes herself off so he can't get too close. The two wind up having several ultra knock down drag outs. I couldn't help but laugh since it was so clear they wanted each other.
When certain information comes to light regarding Samantha's childhood, Douglas realizes he was a little too harsh on Samantha in the past, but he simply can't seem to stop trying to control everything so she will be safe. Samantha of course resents his interference. Both Douglas and Samantha had tragedy in their past and it has made them into the people they are today. That could be a good thing or a bad thing. Both are sensitive to crimes against children especially and that makes them consider going outside proper procedure to save a life. I loved this couple and enjoyed their fiery banter and hot passion
While we don't often hear about religious cults in the press like we once did, they are still very active. Cults have always creeped me out. The idea of being brainwashed and manipulated is just spooky. The fictional cult featured in this book is especially disturbing.
As the case heats up so does the heat between Samantha and Douglas, but Samantha has a big job ahead of her and it's really dangerous. I was on the edge of my seat when Samantha has to do a little undercover work.
I thought the blend of romance and suspense was well balanced and evenly paced. The characters were human and had good qualities and of course like all of use there were a few flaws. Samantha and Douglas both wanted to be charge and run things their own way, but for different reasons. Trust is a really big thing in relationships and when you have been through something as traumatic as these two have, trust is even harder to achieve.
The storyline is interesting and although cults have been written about numerous times, it's been awhile since I have read a book that drew attention to this disturbing phenomenon as well as the Munchausen syndrome. The story involving Samantha's mother was chilling. I don't know how I would feel in Samantha's shoes. I do think she handled the situation with grace and for her own sanity it was the best way to go.
There weren't any psychological twists but there were a few really big shocks, horrifying actually. So, the suspense was top notch.
The book ends on a really positive note. I think Sam and Doug are going to have a red hot relationship and could make a good investigating team if the author ever wanted to bring them back. I could see this turning into a long running series.
I love it when I read a book that entertains me and if I learn something I didn't know before that makes the experience that much more rewarding. Reading about cults and learning which ones are still going strong in the US right now was very thought provoking. This is still an issue regardless of the lack of exposure the press gives the topic at this time. I'm glad Nancy decided to go ahead with this book even if the original plans for it didn't work out. Well done!
Editor's note:
This article was originally published at Long and Short Reviews. It has been republished with permission. Like what you read? Subscribe to the
SFRB's free daily email notice so you can be up-to-date on our latest articles. Scroll up this page to the sign-up field on your right.