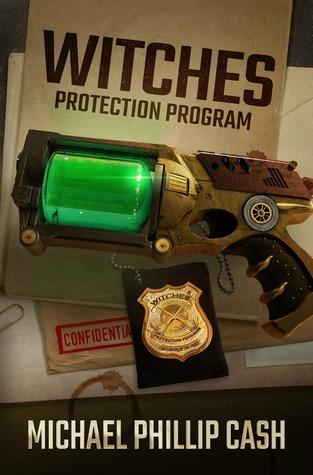 Anyone who loved the movie R.I.P.D. might find this novel a rollicking good time because there are some elements that appear in both the movie and this book by Mr. Cash. I had so much fun reading Witches Protection Program that I didn't stop reading until I was done. What an awesome way to spend an afternoon!
The basic premise is one done before; youngest son tries to measure up to the expectations of a powerful parent and competes and loses to the overachieving elder siblings and the youngest never seems to do anything right. I have a lot of sympathy for Wes, the hero. Not only does he want to succeed and make his family proud, he has to contend with his reading disability. There are so many reasons to like Wes, and very few not to.
The difference is that the powerful parent is actually a good guy. He really does love his son so it was refreshing not to have to deal with that kind of family conflict. As for Wes' mega-successful older siblings, they never appear on stage – I get the feeling that there is no animosity between them, just a fervent wish on the hero's part to be successful in his own right. It sounds like he has a great family, and it wasn't until the very, very end that I found out it's a family with secrets. Wow, did my mouth hang open upon that realization! Talk about saving that extra fancy firework for the last hurrah in an amazing finale. I can assure you I was grinning from ear to ear.
Even though the majority of this novel is about Wes and his finding his own path and self-actualization, he isn't the only star. Morgan is the heroine that readers will aptly come to the conclusion of being hapless, much to her aunt's dismay and annoyance. The aunt is a very twisted soul and yet, in her own perverted way, I think she really does love her niece – she just has an unhealthy way of expressing it. Morgan, it turns out, isn't as hapless or as helpless as a reader is lead to believe and that bumped up the story another notch on the 'cool' scale. However, I too would draw the line at gummy bugs come to life. What a master stroke of devious imagination. Ick!
One thing I'm absolutely happy about is the little electrical zings between Wes and Morgan. I don't know if it will actually turn into a romance but they sure were in 'serious like' with each other. I know I am in like with them. J
Secondary characters are absolutely fascinating. Mr. Cash totally hoodwinked me because quite a few are not at all how they are initially portrayed. Only at the right time, when it benefited the story most, did the author whisk away the figurative tablecloth to magically reveal astounding truths, magic and connections. The condensing of the action into a tight well written couple of chapters filled with chases, attacks, magic fights and zooming witches, animated inanimate objects and colorful descriptions just blew me away. I just loved the flow of this novel.
The point of view is mostly told from Wes' side, but Morgan has her moments as well as her aunt. The head-hopping was kept at a minimum however, so when it did occur, it was valuable and appreciated.
All in all, if you are looking for something different that entertains, amazes, impresses and surprises, Witches Protection Program will give you all that and more. It's funny, clever, witty and smart. It's action packed, fast moving and a fun conflict. It would make a great movie and if it stayed true to the book? I'd pay to see it. I enjoyed Witches Protection Program that much.



Editor's note:
This article was originally published at Long and Short Reviews. It has been republished with permission. Like what you read? Subscribe to the
SFRB's free daily email notice so you can be up-to-date on our latest articles. Scroll up this page to the sign-up field on your right.