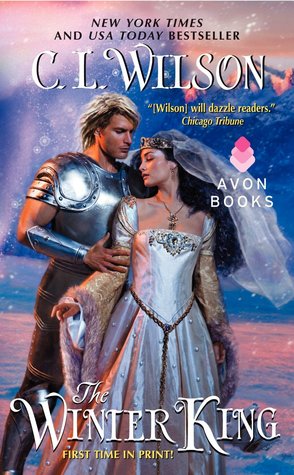 A princess who is hated by her father is given in marriage to a man with a heart turning to ice who hates her homeland. Love is the only thing that can save them both.
I fell in love with author CL Wilson when she penned the The Tairen Souls series. I wasn't much of a fantasy reader but her books are so intricate and deeply layered, they pulled me in from the first page of the first book. I hated to see that story line end but was delighted to see that she would stay in the genre with this new series.
The premise of the heroines for this series is very clever. Four sisters. The three eldest, known as the three seasons, are all that is beauty and grace. The youngest sister, Khamsin Coruscate, known by her sisters as Storm, is treated like an outcast by her father for very selfish reasons. I instantly hated him and had pity for her. I wanted to see her become the royal she was born to be. I wasn't sure I would like her future husband, though.
Wynter Atrailan is very complicated character and almost an anti-hero. He comes to Summerlea as a conqueror with truly selfish intentions to take a bride. He's been wronged and he lost someone he loved so I was prepared to give him the benefit of the doubt. He isn't exactly given a fair deal while at Summerlea but it was the best course for Kham as well as Wynter. Still, he had to work to make me like him and for me to feel that he was ultimately worthy of Kham's loyalty. Conversely, that was one of the things I liked about her best. She is loyal and truly good. She didn't deserve the horrid treatment she received by her father and yet she gave him every chance to love her.
The story is fairly predictable but that wasn't an issue for me. A war was coming. There was foreshadowing and too much intrigue for there not to be a great battle. Ms. Wilson writers very detailed battle scenes. I felt like I was right up in the middle of it and just thankful that I wasn't the target of Wynter's wrath. This man has great depths of emotion and it affects his ability to control his powers. He's both fearful and wonderful at the same time. At least, that's how I saw him and why Kham was so very loyal to him.
This is the first book in this new series and it prepares the reader for what and who's coming next. It is a complete story but there are some lingering questions that should play out in the next book or so. Also, this book has more graphic sex than her previous series. I didn't have any issue with it because for the time period and the situation it was fitting. It wasn't overly done so as to take away from the main plot.
Readers who love to dive headlong into a story and a new fantasy series should give this one a try. It's intense from the onset and that intensity rarely lets up. I look forward to next opportunity to take a walk with Ms. Wilson on the fantasy side of literature.



Editor's note:
This article was originally published at Long and Short Reviews. It has been republished with permission. Like what you read? Subscribe to the
SFRB's free daily email notice so you can be up-to-date on our latest articles. Scroll up this page to the sign-up field on your right.