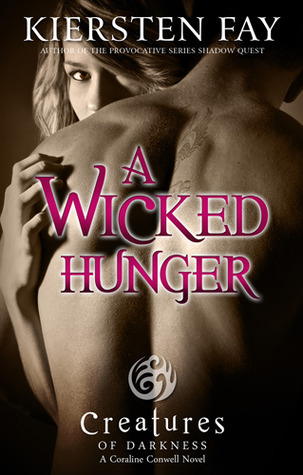 If you're in to alternative realities where the paranormals are a part of everyday life, then this book is worth taking a look at.
The world in which Cora survives in isn't at all what a reader is expecting. It starts off innocuous enough but quickly morphs into a scenario that immediately grabs a reader's attention. What is really going on? Who really are the bad guys? And are the good guys bad too? What a pickle.
The author presents her own spin on what vampires can and cannot do. Ms. Fay also explores what roles witches play in this new reality. I love what the cat can do. Good kitty. Very effective kitty.
Cora's main romantic entanglement comes from Mason. It's a relationship that is extremely bumpy and dramatic yet there are strong feelings growing between the two of them. Just when a reader is satisfied that there is hope for Cora to fall in love with Mason, Knox, another vampire, gets thrown into the mix and the tension and drama really heats up. I had a hard time liking Knox because he's very easy to hate. I'm just not sure if I'm supposed to like him or not. Most of the story, I wanted him to go away, until the last scene at the end – that threw me for a loop. Now I am thinking that the book Cora was reading might actually explain why I'm thinking what I'm thinking and it might actually turn out good.
Here's a piece of advice. Read A Wicked Hunger if you enjoy serial series. I expected this novel to be complete and it's not. I am fully convinced that the romance and love is there but it's not finished evolving. In fact, it's just beginning. The ending was abrupt and poor Cora was once again resigning herself to saying good bye to life. Such is not the case and the author made that incredibly clear. As a hook, the ending was extremely effective. As long as the storyline doesn't spiral down into darkness and too much despair, and Cora finds her inner strength to stand up to bullying, then I'm very interested in watching her grow. I saw the heroine take baby steps in that direction during this first story, and Mason played a huge part in Cora's finding her own way and standing up for herself, but she's got a long way to go. Fortunately, Ms. Fay has created two very likeable characters in Cora and Mason and I am vested in their potential HEA. I look forward to their next encounter.
A Wicked Hunger is a fascinating start to a new serial series that has a lot of potential. The author did a wonderful job of creating her characters' world and the drama and suspense of the mystery that dogs their footsteps along the way. It's a well written story. My hope is that the author won't take too long to publish the next segment. It's good to keep the fires of curiosity burning. Mine are burning bright right now.



Editor's note:
This article was originally published at Long and Short Reviews. It has been republished with permission. Like what you read? Subscribe to the
SFRB's free daily email notice so you can be up-to-date on our latest articles. Scroll up this page to the sign-up field on your right.