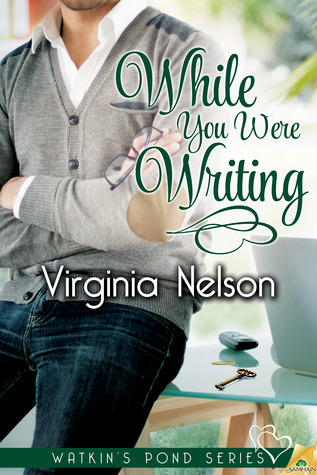 What a fun and quirky short romance story!
Short, saucy and offbeat, While You Were Writing centers around Radcliffe McQueen, a male romance novelist and Sheri Riddle, an artist in town visiting her brother.
Radcliffe is a mess, and I mean truly in a bad way. He doesn't take care of his appearance, his house could be featured on an episode of "Hoarders" and he has writer's block to top things off. Sheri has decided the man needs her help, after all that's what she does besides being an artist. She takes on "projects" , people who are going through a hard time and sets them back on a productive tract. But, she never dreamed Radcliffe would turn HER into HIS project and the two of them would wind falling in love despite the odds against such a thing.
The only very small issue I had with the book, is one I often have with shorter stories, and that is, some areas are not fleshed out enough. In this case, I wish some of Radcliffe's issues had been addressed further, maybe with more insight into his depression and other problems , which he was susceptible to, to begin with. I felt we got a bigger look at Sheri's problems, which of the two, were easier to address, but Radcliffe's issues were deep and serious, thus needing more air time.
I laughed, cried, and cheered for this odd ball couple who each had a cross to bear in life. Radcliffe really does have some mental instabilities working against him. Think Jack Nicholson in "As Good As If Gets" , in someways. While he is not the warmest person in world, and he can certainly say and do things that are not nice, Sheri puts a mirror in front of his face and he begins to see himself through her eyes and he doesn't care for that image at all. But, by the same token, Sheri is carrying around her own baggage and Radcliffe, in his blunt way, opens her eyes as well, causing her to do some very serious soul searching of her own.
Some serious mental health issues are addressed here and the message is simple, pure and sweet. We are all flawed in one way or another. Some people have noticeable flaws, others have hidden flaws they are in denial of, some issues are long term and require more work to live with, but with love and patience relationships can grow, prosper, and yield wonderful rewards. While this couple is not your typical H/h, they are more charming because of it. This was a very nice, enjoyable romance.



Editor's note:
This article was originally published at Long and Short Reviews. It has been republished with permission. Like what you read? Subscribe to the
SFRB's free daily email notice so you can be up-to-date on our latest articles. Scroll up this page to the sign-up field on your right.