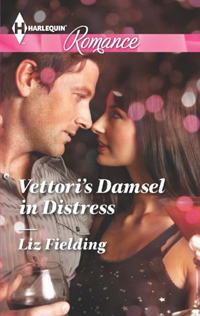 I really enjoy 'love at first sight' stories and Vettori's Damsel in Distress is a wonderful romance on the same theme. I had fun reading this novel because there was an amazing twist complicating the hero's angst that took me completely by surprise.
This is most definitely a character driven romance because it deals with the hurdles that come from loving your family even when they hurt you. It comes from the pain of loving the wrong person until the right person comes along and puts things in perspective.
My favorite personality trait of the heroine, Angelica a/k/a Geli, is her propensity to save any animal in distress no matter the inconvenience it might cause her. It's really adorable and it lends itself to some wonderfully tender and funny scenes in the book.
The hero, Dante, is a typical HQ hero; rich, powerful and used to getting things done. Dante is delightfully approachable and he's actually a very nice guy who goes along with Geli's plans to save injured kitties. He got more than he bargained for and how he reacted made him perfect as a hero.
Included in this story is a scene that is a commonly used technique – the witnessing from afar an interaction that looks damning and potentially undermines all the progress in the romance that had been made. I'm grateful that the anguish was short lived but the real reason behind that moment was shocking. Dante is a lot more noble and honorable than anyone realized – and I hurt for him. I found the reason hard to wrap my brain around because it was so …well, it totally confounded me. How the hero accepted and embraced the situation and remained the well-adjusted guy that he is solidly impressed me.
This story is very sensual. It has a lot of attraction and some kisses and steamy almost moments but when Dante and Geli finally express the physical side of their romantic feelings, I only got to see the happy couple after the fireworks. I'm just happy they got together. I wouldn't expect less with a passionate man like Dante.
Vettori's Damsel in Distress is classic romance. It has two unlikely people coming together at the perfect moment in time when they were ripe for falling in love. Like anything shiny and new, there's a learning curve and a few moments of distrust of something so powerful and fast. How can an instant attraction be the real thing? Read Vettori's Damsel in Distress and find out. I'm glad I did.



Editor's note:
This article was originally published at Long and Short Reviews. It has been republished with permission. Like what you read? Subscribe to the
SFRB's free daily email notice so you can be up-to-date on our latest articles. Scroll up this page to the sign-up field on your right.