This book is an anthology but all the stories revolve around an event at the The Final Chapter bookshop in Havenport. Despite each of the tales being told by different authors, the warmth and love come through in each one and they all knit together seamlessly.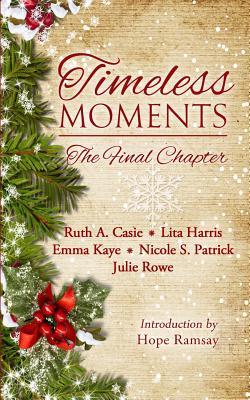 I'll Be Home for Christmas introduces Beth Alexander an author who is smarting from a bad review on her latest book. She and her siblings intend having Christmas at their Havenport family home, but first Beth must do a book signing at the bookstore. On her way into the bookstore she slips and is rescued by a handsome man. From there on Beth's days turn into chaos. Warm and fuzzy Christmas feelings with this story right to the end.
Winter Wonderland brings Olivia Baxter to her aunt's bookstore in Havenport. She's just in time to help with the book signing, but her real reason is to ask her aunt's help regarding her future at college. She meets Max, a young man who has come to Havenport to find his biological parents. Olivia vows to help him, but she also has to sort out her own future. Loved this story but would have liked to at least been able to guess the identity of Max's parents.
Baby It's Cold Outside is about Jane Caulfield, the sister-in-law of local author Winnie Boyle. Few people know Jane and her brother Bastian, Winnie's husband, are from the past. Jane cast a spell to bring them into the future. At the book signing she jokingly reads another spell, knowing it won't work because the ingredients needed are not present. Or are they? There is an unexpected result to her spell casting, and Jane is unsure what action to take to put things right. This story has a male hottie included. Yum!
White Christmas brings the reader into the life of Savannah who has come to Havenport to help her sister with her new venture, Wags and Walks, a pet shop and dog walking service. Savannah has an unfortunately introduction to Mac the owner of the local garage when one of her charges waters the man's trousers. Mac is intrigued by this feisty woman, but senses there is something she's hiding. He is determined to find out her secret and help her if he can. A little tense but love will win in the end.
Merry Christmas, Baby is Mattie Clark's story. Moving back to Havenport where she grew up she meets Charles Walker, the man she dreamed about as a high school teenager. Charles has become a recluse due to serious burns suffered while he was a fireman. Mattie believes inside Charles is the same gorgeous person he has always been, but she has to convince him of this before they can move forward together. Tender moments with conflict of emotions.
A lovely book of anthologies to curl up with beside the fire on a cold winters day. Carefully woven together to make what might be a lovely present to put under the tree.




Editor's note:
This article was originally published at Long and Short Reviews. It has been republished with permission. Like what you read? Subscribe to the
SFRB's free daily email notice so you can be up-to-date on our latest articles. Scroll up this page to the sign-up field on your right.