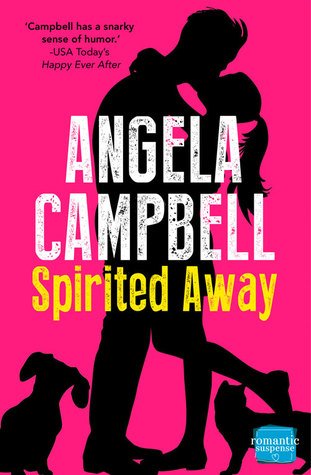 "He thinks you're an idiot for letting me in. He thinks I'm a thug. Oh wait. Scratch that. He thinks we're both idiots."
Emma Fisher or "Spider" as she likes to call herself is given the responsibility of pet-sitting by her boss, Zach, until he and his wife Hannah returns from their honeymoon. Working for her boss as the cyber security specialist allows her to work from home, and she is therefore the best candidate for pet and house sitting, I guess. Before long, she almost loses one of the dogs, gets locked out of the house, and finally meets the hot new neighbor who helps her get back in the house. This is just the beginning. Before long both of their lives gets entangled in a mystery that threatens their past, present and possible future together.
Emma is a beautiful but geeky woman who loves to play games. A confident woman, who develops her own personality a little late in life. She has worked hard to have her own personality, to be an independent working woman and that shows in the book. But during the beginning the book for me it felt like she had a crush on half of the guys she works with. I mean, I can understand, all of the guys she works with are hot guys. Still, it irked me a little because it felt like she couldn't decide which one she had a crush on when in the rest of the novel it showed a totally different side of her, a confident know-what-she-wants woman. However, even with that it wasn't difficult to get lost in this book. And I did get lost.
Noah West is the hot and sexy new neighbor. He is an insurance claims investigator who has retired but is doing one last job for a very insistent client who wants him to investigate Zach and Hannah. He meets Spider when she gets locked out of the house. From then on, their lives and problems get entwined with each other.
Noah and Emma are very much attracted to each other even from the beginning. It is fun to see the development of their relationship from neighbors, to lovers, to a couple.
One other thing I absolutely loved is the humor in it. The pets' antics towards their pet-sitter had me laughing out loud, very, very loud, in the middle of the night to say the least.
This is the third book in The Psychic Detectives Series. I haven't read the first two books of this series. I didn't have any problem understanding what was happening. This book can work as a stand-alone but I would urge the readers to read from the start to better understand.
Haunted houses, Hilarious pets, romance, a mystery waiting to be solved. What more could I ask for?



Editor's note:
This article was originally published at Long and Short Reviews. It has been republished with permission. Like what you read? Subscribe to the
SFRB's free daily email notice so you can be up-to-date on our latest articles. Scroll up this page to the sign-up field on your right.