How many times do we romanticize something until it has no bearing on the truth? And what happens when faced with the reality of how things really are? That's the impetus for one of the conflicts that propels this well told romance by Ms. McQuiston.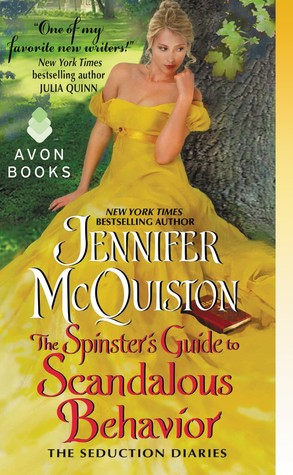 Lucy, the heroine, is faced with obeying the edicts of her parents, and dying inside, or taking the path less traveled, one she believes a barely known aunt actually lived. She was bequeathed diaries and a cottage and as far as she's concerned, Lucy is going to choose to live the grand life of a spinster. She thinks she is armed with all the information she needs, written in her aunt's own hand. The heroine's rose-colored glasses slowly get a tint adjustment from the hero, Thomas.
Thomas wasn't what I expected in a hero. He's rather odd, reclusive and stuffy. He thinks he prefers life as he's living it and that includes a secret. A secret that I admit to never even coming close to guessing correctly, and because of which, makes this a truly enjoyable read. I love being surprised.
The one thing that Lucy does to Thomas is make him feel. She challenges him, she thwarts him and she beguiles him to the point that he starts imagining seductive scenarios and having intriguing thoughts about having his way with her. It scares him silly, yet, he can't stay away. That, of course, is too bad because Lucy wants nothing whatsoever to do with him, and that is another plot conflict that was rather fun to watch unfold. How she goes from not trusting him and despising him, to craving him is quite entertaining.
I waffled back and forth about whether or not her parents truly loved her or were using her as a pawn. I think it was a little bit of both, but I'll let other readers decide for themselves. Certainly the author provided plenty of scenes and info to support both views. Eventually, there is mini HEA of a sort regarding that plot conflict, and I found its delivery engaging. The Spinster's Guide to Scandalous Behavior is very much a character driven romance. Lucy was a bit too stubborn at times and I felt she should have given in just a bit earlier, like half a chapter's worth, but then again, she wouldn't be Lucy if she did cave. She's quite the firecracker.
I liked the many humorous moments, some of the towns people, especially the orphans, and I very much enjoyed watching Lucy discover the many people in real life that she had only read about in her aunt's diaries. That she knows their secrets when they don't know her at all was a very clever bit of writing. I enjoyed seeing the heroine try to dig herself out of a hole when she said something about an event she should not nor could not have known. There were many pink-cheeked moments that made me smile.
Ms. McQuiston has written a charming, entertaining and clever romance that I very much enjoyed. The heroine has such an adventurous spirit that she compliments Thomas's pragmatic and almost proper mien. The hero is Lucy's rudder and rock, and she's his life's spice and dreams of adventure. Between the two of them, they make a miracle happen, and that's about as romantic as it gets. The Spinster's Guide to Scandalous Behavior is a book that is easy for me to recommend because it made me care for both Lucy and Thomas, and that's a good thing.




Editor's note:
This article was originally published at Long and Short Reviews. It has been republished with permission. Like what you read? Subscribe to the
SFRB's free daily email notice so you can be up-to-date on our latest articles. Scroll up this page to the sign-up field on your right.