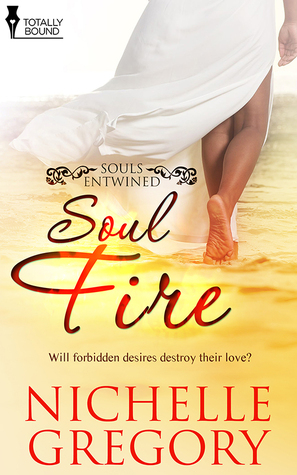 After ten years of marriage Aimee Ryan finds out that her husband Kaden has cheated on her. She is hurt, devastated and disappointed, and so she turns to her friend Van for comfort and support. Van offers his support but he soon finds that he is completely attracted to Aimee and Aimee feels the same way about him. So instead of holding back and not exploring these feeling, Aimee gives in and has an affair with Van who also happens to be her husband Kaden's colleague.
Kaden Ryan was feeling lonely and unloved by Aimee–she seemed to never make time to be intimate with him so he turned to his friend Van's assistant Tonya for sexual soothing. For him it was just sex nothing more but when his wife Aimee found out he knew that he had hurt her. Kaden had to find a way to get Aimee to forgive him and to give their marriage another try. He had to find a way to put the spark back into their marriage.
Soul Fire is book three in the Souls Entwined series, and it's all about the sexual awakening of Aimee and Kaden, and how they brought their marriage back from the brink of divorce. Their marriage and sex life was routine, with each wanting more from the other but did not know how to ask for it. However, once Kaden found out the things Aimee did with Van, he wanted to recreate it and embellish on it
The characters of Aimee and Kaden as well as Van and Tonya helped create a story that was interesting and enjoyable. Nichelle Gregory created characters that pulled you into their story and made you root for them. There was a little Dom/sub action going on with all four characters which was entertaining but never fully fleshed out. We got a glimpse of the role Tonya played as a submissive to Kaden, and also the same with Aimee and Van. Kaden made Aimee describe what she and Van did and then he recreated it with her; however he never said what he and Tonya did.
Also, I couldn't quite understand how Van went from being in love with Aimee and willing to be a part of a threesome because he just needed to be near her, to dating Tonya. There was no explanation and knowing how hurt Aimee was with Kaden cheating with Tonya why would Van date someone who hurt the woman he professed to love? Also the ending of the book was abrupt and left a lot of questions unanswered.
Soul Fire is a good story to read, it will leave you with questions but it will also show you how two people who think they know one another can come to realize that there is always more to learn.



Editor's note:
This article was originally published at Long and Short Reviews. It has been republished with permission. Like what you read? Subscribe to the
SFRB's free daily email notice so you can be up-to-date on our latest articles. Scroll up this page to the sign-up field on your right.