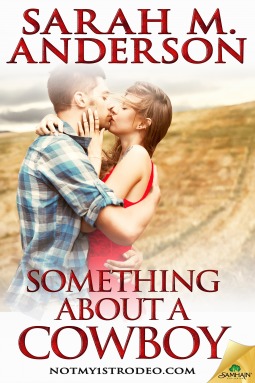 Mack Tucker still missed his wife, Sue. Taken from him by cancer, Mack's three boys are insisting that six years of grieving is more than enough. Mack needs to get back into the dating game, and an online website is perfect for that. A few phone calls later and Mack finds himself driving three hours in the dead of winter to meet Karen Thompson in Billings, Montana. When he see's Karen, he knows he's in trouble. With a rose in her hair and a barely-there red dress, Karen might be a divorced florist, but Mack instantly knows what she really is – trouble for his heart.
I really loved Mack's character. Forty-six and normally in control, Mack is a man who knows himself. But he's let his love-life wither into nothing after the devastating loss of his wife. Karen is determined to feel more like herself again. After being cheated on and all but ignored by her ex, she's ready to live, to feel and experience passion and happiness. I was delighted how honest Mack and Karen were with each other – from their initial meeting onwards. Karen is very up front about how she's not looking to marry again, but just to connect, to be treated well and enjoy companionship. And Mack also admits now his sons are grown and gone he can go a week in winter without speaking face to face with another human being it can be very lonely. He's finally ready himself for some companionship as well. I felt from the beginning both Mack and Karen were in a similar space and knew they'd easily be able to give what the other wants while still being true to themselves.
The sex is hot and wonderful. I love how both Karen and Mack really got into it – talking a lot and sharing their wants and needs with each other. While the sex is descriptive and prolific, I don't feel there's anything that could be offensive or too envelope-pushing for most romance readers. It is graphic though, so more traditional readers mightn't find this as well-written as I did. I was also impressed how the author used the intimacy of Karen and Mack coming together to really deepen both their connection and our understanding of their characters. It wasn't just scene after scene of descriptive sex, but a lot of talking, discussion and sharing of their thoughts and bodies. I felt this really helped me appreciate and understand them both better.
I also really enjoyed how even after their scorching first date, both Karen and Mack needed some time apart – Mack in particular. They both have baggage, and their own issues to work through, and instead of glossing over them, or using their pasts to create conflict between them, Mack needed to sort through his emotions and expectations. I was delighted by how the author wrote this – walking that fine line between not dwelling or sulking, but also still taking the time needed to go over the issues and sort them out. I felt this really showed the strength of Mack's character and I was impressed that Karen didn't hassle him or become clingy as so many heroines tend to in this situation.
Overall I found this a well rounded story with engrossing, vivid characters and plenty of personal history and baggage. Add in some smoking hot sex and a wonderful connection and chemistry between the main characters and this is a cowboy story I feel is sure to appeal to many readers. Recommended.




Editor's note:
This article was originally published at Long and Short Reviews. It has been republished with permission. Like what you read? Subscribe to the
SFRB's free daily email notice so you can be up-to-date on our latest articles. Scroll up this page to the sign-up field on your right.