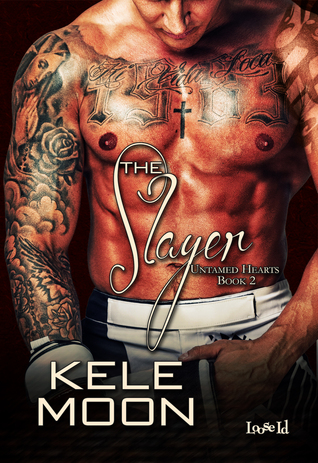 Kele Moon accomplished something amazing with this book. She created an exciting and suspenseful journey that left me breathless by the end. It immediately captured my interest and easily had me completely lost in Chu and Alaine's love story. I found myself surprised by the characters, caught up in the emotions, and spellbound by the gritty climax and it's aftermath. Throughout it all I grew deeply attatched to all of the characters, and honestly hated saying goodbye. Yeah, this book was everything I expected and then some.
I loved every bit of this story and the way it was unveiled in perfect layers of past and present. I loved the revealing glimpses into Chuito, and how it laid bare the flaws, mistakes, and the regrets that made him a deeply troubled soul. I enjoyed watching how the relationship evolved between Chu and Alaine, and felt that their love story was beautiful. At times the depth of character took me by surprise. Chuito thought that he was tainted by his sins, too bad to be with a good girl like Alaine, so he tried to push her away. Seriously, Chuito was a gangbanger in love with and a minister's daughter. They had major issues and yet they were brutally honest with each other.
This was an exceptional story unlike any MMA romance that I've read. It was a story about love, loyalty and redemption. The characterization was real ; Chuito was a hero who had done some bad things, but he worried about the people in his life and needed to take care of them. His experiences and need for absolution helped to shape him into the man, the hero, that I could love.
Then there was the drama surrounding the Italian Mafia. This story definitely opened some doors for at least two more books in the series, and I can't wait to read them. There was the humour in the friendship between Chu and Tino, and the sarcastic wit of the dialogue between the entire cast of characters. Lastly, there was Nova. I've been waiting for him, so just when can I expect his story ?
The Slayer is the second book in the Untamed Hearts Series, but it can also be read as a stand alone. However, since the story spans some time and events overlap, then I suggest reading book one, The Viper, as well.
The Slayer should be at the top of everyone's must read list for sure.




Editor's note:
This article was originally published at Long and Short Reviews. It has been republished with permission. Like what you read? Subscribe to the
SFRB's free daily email notice so you can be up-to-date on our latest articles. Scroll up this page to the sign-up field on your right.