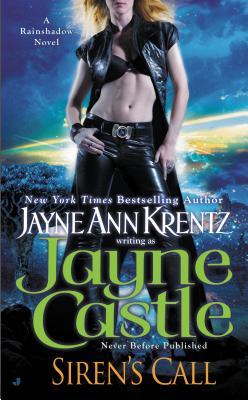 The dust bunny in
Siren's Call
cracked me up. She dragged that wedding veil everywhere! I love their attachments to bling. Dust bunnies never cease to amaze and amuse which only enhance the stories they are found in. In this adventure, Ella and Rafe are two unlikely people who meet under the weirdest and dangerous of situations. Lorelei, the dust bunny, is a fluffy heroine from the get-go. She and her new partner, Ella, become a vital team especially once the heroine, Ella, finds herself in a pickle where only a dust bunny's alien talents can save the day. Even big, hunky, alpha, chip-on-his-shoulder Rafe had to agree.
I always enjoy my visits to Ms. Castle's planet Harmony because it's always so unusual and surprising. Each book takes place where a discovery of alien influence occurs and this one is no exception. What was surprising were the dinosaurs. I actually felt bad for them once Ella figures out what is going on, and what had happened in the past. But that didn't stop them from being significant reasons for fear, drama and action.
Another thing I enjoy about Ms. Castle's stories is how she weaves villains in, leaving red herrings to distract a reader while drawing us closer and closer to the real plot conflict and motivation behind the criminal activity. There's always someone who is so villainous, they'd be eligible to join the "injustice league" but Superman can't be found here on Rainshadow. Only Rafe and his fevered dreams, which, incidentally, turn out to be sort of like a superpower. It took Ella's faith and confidence in him to stop fighting it and embrace what he feared. Once he does, the hero works wonders. I adore the scenario of a hero or heroine being supported by the ones who love them to such a degree that they accomplish feats unimaginable to them prior. Ella does that for Rafe. I'd call that a superpower too.
Humorous dust bunny antics aside, the story does have its moments of seriousness and mystery. There's action, suspense, and donuts. Yes, donuts are a serious business but only by reading the book will a reader understand why. You could have knocked me down with a feather.
I greatly enjoyed it when Rafe and Ella finally got together. I also found it amusing as to how hard it was for Rafe to give in to his falling in love with Ella. The more they fight it, the harder they fall and that applies to the hero. Entertaining reading, for sure.
Siren's Call is another excellent adventure on Rainshadow Island and not to be missed by fans of the series. I think this could be read as a standalone because it does focus primarily on Ella and Rafe with only vague references of past stories of the supporting cast.
Ms. Castle has another winner on her hands with this one and I definitely recommend it. A fan's bookshelf would not be complete without a copy of Siren's Call added to it. I have it on mine.




Editor's note:
This article was originally published at Long and Short Reviews. It has been republished with permission. Like what you read? Subscribe to the
SFRB's free daily email notice so you can be up-to-date on our latest articles. Scroll up this page to the sign-up field on your right.