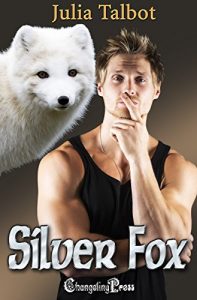 Noah could hardly believe it, but he was dead bored – even with all the delicious, scantily clad eye-candy surrounding him. Despite the fact there were plenty of men just his type around, Noah couldn't raise any interest. Until his attention was captivated by Toland. Completely not his type, something about the tanned, silver haired man had Noah completely riveted. Could this be exactly what he needed?
I found this to be a super hot, really lovely short story. I've enjoyed some of the previous Faster Bobcat books in this series but strongly believe this can be read as a stand-alone book. Noah and Toland are front-and-centre of the entire book and aside from a mention of previous characters in the epilogue there's no back-story or feeling that readers need to catch up on anything. I feel this can definitely be read without any previous experience in the series. I love the author's style of writing and found myself almost immediately drawn in by Noah's voice and I was eagerly turning the pages to find out what happened next. I loved how Noah was used to being in control and had never really wanted to bottom but how he felt the desire to explore new things with Toland. This was a slightly different outlook on the "reluctant submissive" style of story I've read before and it felt fresh, real and interesting to me.
The only very slight criticism I could put forward was that I didn't get to see much inside Toland's head. While I enjoyed his character and definitely felt a connection with Toland, the story is told mostly from Noah's perspective (third person, which I greatly enjoyed) but this had me feeling like while I understood where Noah was coming from Toland was a little bit more of a mystery to me. The sex was deliciously hot and I thoroughly enjoyed how both men clearly felt a connection with each other from the start. This wasn't just sex for the sake of it – or fucking added in to make the story steamy – this was two sensual, grown men starting a lovely relationship together and the sex deepened the connection and acted out on the attraction they each felt. There were light elements of BDSM in here – nothing that I found too harsh or envelope pushing, but readers should certainly take note if they like less spice in their romance stories.
A delightfully written and sensual M/M with a hint of BDSM spice that I greatly enjoyed. I can't wait for the next book in the series.



Editor's note:
This article was originally published at Long and Short Reviews. It has been republished with permission. Like what you read? Subscribe to the
SFRB's free daily email notice so you can be up-to-date on our latest articles. Scroll up this page to the sign-up field on your right.