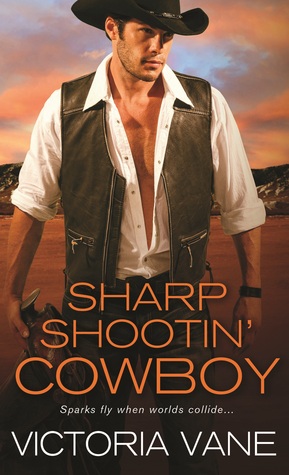 Reid Everett is a marine sniper, about to be deployed. While all his mates go out for a bit of fun for the last time in the foreseeable future, Reid is still licking his wounds from a Dear John text months earlier. Hayley has been studying hard and has work lined up over summer, so she can't deny her friend Yolanda when she gets dragged out to a country bar for a night of fun. Reid is the first man in ages to ping her radar, but interest is quickly turned to annoyance when she finds out he's a Marine. One night stands and flighty men who ditch their women on a whim is not her style. But Reid surprises her when he comes to her rescue, and Hayley will need to understand Reid doesn't conform to many of the labels she automatically places upon him.
This is a spicy and fun romance story. Hayley is not one to pull verbal punches and I thought she certainly put Reid through his paces, especially in the beginning. Having an absent father in the Army has soured Hayley for much of military life, and being against the war in the first place means she has some very strongly negative views on all things Army. While her dislike certainly caused some simmering tension between Hayley and Reid, I found especially in the start of the book her prejudice soured me on Hayley's character a little. Her antagonism toward Reid was right on my personal knife edge between being rude and having a backbone and willingness to express her views. Many readers might feel differently, but Hayley's caustic words meant it took me a while to warm up to her character.
Army correspondence style romances aren't new, but I liked the fresh email take this story has. Letters don't need to be long, meandering and tug at the heart strings. I like the short, feisty and snappy conversations that can go on between people with this faster mode of communication. I also enjoyed reading about various pictures Reid could attach to his letters. But some things never go out of style – getting to know someone via this style of communication is slower, but yet still somehow deeper than many face-to-face versions.
There were a few clichéd plot devices, but for the most part I really enjoyed meeting both Reid's and Hayley's families. There is a whole host of characters – along with the obligatory, sexy ex-girlfriend – and I felt these interesting people really helped create a great backdrop to the romantic story.
Overall I found this to be a spirited, heartwarming story. Hayley is a crusader, full of strong ideals about saving the world from war and the environment, rescuing wildlife and so forth and Reid is a strong, quiet man who is also saving the world the best way he knows how, through the Army. They're two fundamentally different people who still find themselves drawn to each other – no matter how strongly Hayley might deny it. I think that readers wanting a quick fix for their steamy romance might find the pace of this story – and the character conflicts – a bit slow-going, but those who love a slow build up and the characters really working for their Happily Ever After should be really pleased with the passion and chemistry between Reid and Hayley.



Editor's note:
This article was originally published at Long and Short Reviews. It has been republished with permission. Like what you read? Subscribe to the
SFRB's free daily email notice so you can be up-to-date on our latest articles. Scroll up this page to the sign-up field on your right.