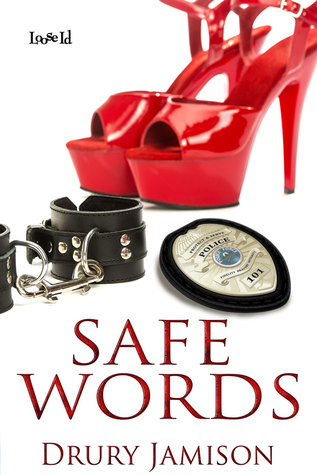 Floggers and paddles…oh my.
Some books really go down deep and keep you reading down to the last morsel and leave you hungering for more. Like…right now. Give it to me. That's what Safe Words by Drury Jamison was for me. A murder mystery and an education on the BDSM lifestyle, this book was a journey into some of the lesser known angles of power exchanges and relationships and the pages just melted by.
Detective Eleanor Silver is a dominant woman struggling with a drinking problem in a world run by men. During a murder investigation of a Domme, she is introduced to Dr. Anderson Wells, a sexual submissive known as the Professor. He illuminates the mysterious world of BDSM and in showing Eleanor who she is, also takes the reader on an emotional roller coaster ride.
Men as sexual submissives are misunderstood. Eleanor had expected a shy and blushing man, not the capable person sitting in front of her at the local bar. Her tightly woven cage begins to unwind and Detective Silver finds herself in deeper than she ever imagined herself to be. There is everything kind of kink you can imagine all around her at the events and gatherings she attends.
The murders of dominant women continue and Silver has a lot on her plate. But one thing she has figured out. She no longer has the burning desire to drown out her life in drink. Instead, she thinks about Anderson constantly. This new hard and soft side of her is both illuminating and surprising but what she learns next will either save her or set her free. All at the soft whisper of a safe word.
I loved this book from beginning to end. The ugly parts and the pretty. The glamour and the underbelly. Drury Jamison shows us the world of submissive men and the vast rainbow of characters at any given BDSM event. Most novels I've read showcase the Dom, but not this one. This one glorifies strong women and the men behind them. It also shows the power struggle in some circumstances and just how real secrets can get in the cold light of day.
There was nothing I didn't like about the book. The characters were rich, the scenes described beautifully and the interaction between the MC's absolutely beautiful. Seeing Silver flourish and become the Domme as Anderson showed her what home meant was amazing and I had tears in my eyes on more than one occasion. It also had cutting edge mystery that kept you guessing who the murderer was until the moment it was revealed. Wow….wow.
I want more of Detective Silver and her man Anderson and I feel privileged to have had the opportunity to read this novel. Fans of Kallypso Masters, Sierra Cartwright and others that delve into the healing aspect of BDSM will adore this book.




Editor's note:
This article was originally published at Long and Short Reviews. It has been republished with permission. Like what you read? Subscribe to the
SFRB's free daily email notice so you can be up-to-date on our latest articles. Scroll up this page to the sign-up field on your right.