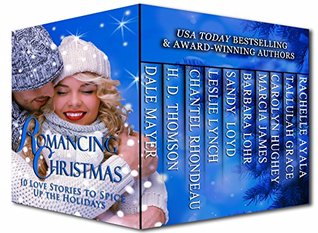 These are 10 short stories that will tell you exactly what Christmas is about.
Dale Mayer ~ Broken Protocols
This is a different story than the others since Broken Protocols is set in the future. Dani and Charmin, her pet cat, were brought to the future by Milo. Milo is the younger brother of the man who becomes her husband, Lexi.
This was a very creative and well thought out story. The characters were different and very eclectic. Every character had their own personality. It was interesting to see how they came together to bring back Christmas.
The plot in itself was simple but the way it was written, it kept me interested and wanting to know what happens. This is a book of rekindling, finding and making new traditions. To celebrate Christmas again, what great joy!
H.D. Thomson ~ Shades of Holly
Second Chances… Everyone would love to have that second chance. Fate and Zach get a chance for their relationship but it comes with the possibility of Fate's life being in danger.
Always loved second chances love stories. This one was special for me because it had Christmas/Holiday added to it. Shades of Holly also had a little bit of fantasy in it the emotions and the feelings that the characters had touched me and made it real. It was descriptive and touching.
A touch of intrigue mixed with Christmas, perfect for mystery lovers.
Chantel Rhondeau ~ Season For Love
Tess Riggs is the head nurse whereas Dr. Dash Brisson is the pediatric specialist. They didn't get along. Misunderstandings made it difficult for them to get along with each other. However, a Christmas auction heats up their passion for each other. They try to work with each and understand each other. This story was realistic for me. The passion for each other and for the work they do shows throughout the story. It was interesting to read their interactions.
This is one story that sounded so real because both of the characters are hard workers who love what they do and want to see a change in other's lives. How their relationship progressed and developed felt so realistic.
Leslie Lynch ~ Christmas Hope
Sam Bledsoe runs a landscape business that not only keeps a roof over his head but lets him work without curious eyes and questions. However, when a woman, Becca, faints while walking from his neighbor's house, he comes to her rescue even though he wrestles with the memories of the accident that gave him a scarred face.
A bond forms between them. A bond, that can either help him recover or can set him off. This bond between them was very remarkable. Sam needed help to run his landscaping business. When he meets Becca, she somehow pushes him to take chances and make him see things that his scarred face has hidden.
Sandy Loyd ~ A Christmas Miracle
Megan Jenkins is a widow and a mother. She isn't looking forward to Christmas since her husband died one year right after Christmas. But this Christmas, her and her son's life is changed for the better with the help of a long time friend, Kevin.
This Christmas will be different for Megan and her son. Zach brings strength and happiness to them. Strength to take care of her problems. Zach was there for her and her son throughout. And that gave her hope. I loved that. Rekindled hope. The healing from the incident that took her husband's life. I loved Zach's character most of all. He understood everything and was willing to wait. That was sweet.
Barbara Lohr ~ The Salty Carmel Christmas
Rachel Morgan returns to Paris, her hometown, for Christmas break with failing grades, a school loan and a bad breakup. Instead of a break she gets bombarded with problems that could shake her small family. However, through it all Rachel finds a love in an unexpected family friend that helps her family and her through these difficult times.
I just loved it. Rachel is in that time of her life where she is trying to decide where her life and career will head to. She is headstrong and a perceptive girl with a love for family. She understands people and is kind to people.
The characters were very young without it being too clumsy and the story didn't stray too far towards drama. That was a win-win for me. The characters were defined and understanding.
A sweet story with a recipe for salty caramels that is going to make you drool.
Marcia James ~ Heating Up the Holidays
Nicky Paxton, the heir to her father's department store chain, is working as a Santa's Helper when she meets her high school heart-breaker, Chris Spencer, who wishes to start his own practice in his hometown so that he and his daughter can stay near family. When his daughter asks for a "Fairy Pony Puppy" as a Christmas gift, he enlists Nicky to find out what is a "Fairy Pony Puppy".
A very sweet and thoughtful story. I was a sad to see the story end. It ended too early. Everyone has their own dream. How far will you go fulfill yours? For me this story shows the importance of being with the person you love. Success and love can go hand in hand. Though it was a very good story I think there could have been more. The plot could have been more developed. It was too simple and short. The characters and the passion between Nicky and Chris kept this story alive.
Carolyn Hughey ~ Insanity Claus
Mallory Gardner, a widow is trying to keep her Christmas shop afloat when Arden J. Miller enters her shop and almost captures her heart. With two constantly quarrelling daughters and her own battered heart, her sanity is tested to the limit. I wanted to keep reading to see if the issues would be resolved enough for Mallory to concentrate on herself.
An engaging story with a plot that just stunned me for a second. It was a very moving story that brought tears to my eyes. It brought teenage angst together with mother's love, frustration and hesitation. The combination of all of these was woven very well. The plot and the characters went hand in hand in satisfying me.
Tallulah Grace ~ A Family for Christmas (The Orphans of Richaven, Book #1)
Erin Matthews returns home after her father's death intent on selling the house. However, she meets the family living next door and uncovers a truth that could change her life.
The plot was not that complicated. But the characters for me were the main interest. The characters pulled me in every time and engaged me in the story. I think the characters were the driving force for this story and that was ideal for this setting. The chemistry between Erin and her handsome neighbor, combined with the feel of family, moved the plot along at a great pace. Perfect!
This is a very touching and emotional story filled with characters that touched my heart.
Rachelle Ayala ~ A Father for Christmas
Kelly is a single mother who is trying to give her daughter, Bree, the best possible life she could after a scandal that leaves her an ex-convict. Bree wants a father for Christmas. When she sees Tyler, a homeless veteran, she thinks she has received her Christmas gift.
This story was totally different than any other short story in this anthology. It was descriptive and very deep. The plot had an unexpected turn that kept me on my toes. With the little girl added into this, it just made me smile. Of all the stories in the set, I think this one will really appeal to those who appreciate a good love story…It is a story about second chances, forgiveness and hope.
This boxed set of Christmas stories shows the different sides of life. Sappy love stories surrounded by family with a sprinkle of Christmas all over. Christmas is the season of love, family and togetherness. All of the stories are presented by very talented authors.



Editor's note:
This article was originally published at Long and Short Reviews. It has been republished with permission. Like what you read? Subscribe to the
SFRB's free daily email notice so you can be up-to-date on our latest articles. Scroll up this page to the sign-up field on your right.