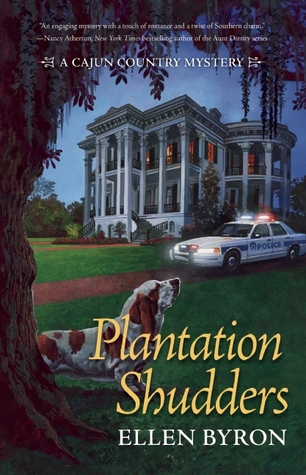 Family loyalty and fortitude are put to the test when the Crozat family is framed for murder. Ms. Byron presents readers with a unique cast of characters whose quirks and characteristics are endearing and enchanting. That lightness is in stark contrast to the darkness of the crime which haunts them and the determined heroine, Maggie, has the gumption and will to fight for her family's home, reputation and freedom. It sounds heavy and mysterious but in fact Plantation Shudders is kept from being a dark read by virtue of Maggie's eccentric grandmother, a love interest named Bo, and all the different personalities that are residing at Maggie's family's bed and breakfast. I was vastly entertained.
First, the mystery works. I didn't figure out the "whodunit" until the author wanted me to. I liked the fact that so many of the guests had secrets that Maggie ferreted out, but I never clued in as to which one was going to be the 'tell'. I enjoyed all hoops the heroine had to jump through in order to investigate on her own. Another aspect of her sleuthing is her eventual trust in Bo. I was thrilled when he not only didn't stop her from doing her own investigating, nor did he try to dissuade her, but instead treated her as a valuable informal partner. I enjoyed watching that trust grow.
The strongest element in the novel is Maggie and her family's relationship. The author is able to bring a reader into the Crozat family home where they're treated to some very down to earth daily activities. They may seem normal and routine but that's part of the book's charm. It's that welcoming atmosphere that brings the guests to the B & B, and gets a reader to care about the Crozat family and creates a drive to continue reading until the amazing conclusion when all is revealed. I think the moving log is a great scene.
One thing I noticed was the importance of food and local dishes to the atmosphere of the book. Imagine my delight when I found recipes after the epilogue. There is one that I am surely going to try. It sounds delicious!!
My favorite parts of the story are whenever Maggie and Xander are together. I appreciated how the author handled that subject and I thought their final scenes together to be the sweetest things ever. It highlighted more than anything else in the story, just how wonderful a person Maggie really is. It's that kind of insight that helped her solve the mystery, and it will surely be an asset when a future relationship develops with Bo. At least, I hope that's what will happen. It sure was a nice touch in Plantation Shudders.
Cozy mystery fans need to give Plantation Shudders a try. It's a fascinating read and I enjoyed watching Maggie try to solve the crimes. She's a regular lady with a strong sense of family and history. Her character has a gentle strength which appealed to me. I also got a kick out of the wrap up epilogue which documented how the aftermath of the solving of the mystery affected the town and some of its residents. It was totally grin worthy.
Plantation Shudders is a great read and it gets a hearty recommend from me. Ms. Byron has a winner.




Editor's note:
This article was originally published at Long and Short Reviews. It has been republished with permission. Like what you read? Subscribe to the
SFRB's free daily email notice so you can be up-to-date on our latest articles. Scroll up this page to the sign-up field on your right.