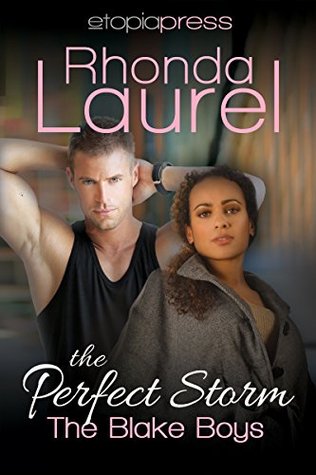 You find love when you least expect it.
The only part of the title that fits this book is the perfect part. There was definitely not a storm in the forecast. The Perfect Storm was an enjoyable read that left me with a happy feeling.
Sometimes a reader wants to read a book that will take them to a happy place. No mystery to solve, no suspense leading the reader to a degree of anxiety; just a satisfying read with a happy ending.
The character were likable and it was enjoyable to read their story. Recently divorced J.J. Blake has plans to carry on with his life, but as a man that many women seek of course he has several dates lined up. Those dates don't go quite to his liking but that doesn't bother J.J. because his eyes have found the woman that he is looking for. J.J. is running the family business and it's time for the company's security audit. This will be J.J.'s first time handling the company's audit, but he didn't expect "Sam" to be an attractive Samantha Jane Carson. Sam has an impressive resume but it doesn't equip her to handle the likes of Mr. J.J. Blake.
I enjoyed how the author took her time building the chemistry between Sam and J.J. As a reader it made the book so much enjoyable to not rush this stage of the relationship. Their connection is believable and even more romantic with the slow heighten to the sex part. Their sex was no wham-bam thank-you ma'am, but more along the lines of gathering all the ingredients to a recipe and the finished product is something enjoyable for all.
The way Sam describes J.J. a reader can't help but adore the attraction between the two, and encourage their relationship. Two broken people deserve to find happiness in life. There was something about the time spent between Sam and J.J. getting to know each other personally, more than a physical attraction that made this book stand out to me.
The Blakes could be a model family of perfection. The members of the family, and there are a lot of them, are talented, rich, funny and most importantly they all get along. It is so charming to read about a family that supports each other, that encourage each other, and they get along and don't purposely cause harm to each other. But of course nothing can be all the way perfect. J.J.'s ex-wife tries to bring about drama.
The plot was one I enjoyed. The author's writing is a smooth style that is easy to read. There were a few typos, however they didn't disrupt the flow of the story.
This is a book that I would highly recommend to readers that enjoy happy endings for characters deserving to find their way to love.



Editor's note:
This article was originally published at Long and Short Reviews. It has been republished with permission. Like what you read? Subscribe to the
SFRB's free daily email notice so you can be up-to-date on our latest articles. Scroll up this page to the sign-up field on your right.