If a reader is looking to be charmed and entertained, look no further than One-Eyed Dukes Are Wild because it's all that and more. Ms. Frampton writes the Dukes Behaving Badly series and I'm happy to say this is a great standalone book. I haven't read any of the other stories and although I didn't need to in order to enjoy this novel, it definitely has me interested in the others especially if they are as fun as this one.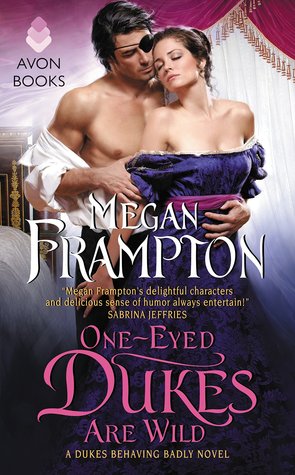 Margaret is a not only an author, but a card shark. The heroine is determined to not marry at all especially after what happened with the last prospective husband her parents wanted her to marry. Now, she's alone with no family to support her and she's fine with that. However her independence is like the perfect carrot for a man who likes a challenge or wants a relationship without strings. It always starts off that way, doesn't it? But this novel takes a different approach. One that is refreshing and that I liked a lot. First impressions set the stage for some great dialogue and a journey neither Lasham nor Margaret foresaw.
Ms. Frampton also drew a very sad and stilted picture of her hero, the Duke of Lasham. He's proper, responsible and he's never had any true fun or time for frivolous frolic in his youth. He's a shadow of the man he should be. Enter the very unconventional Margaret. I had a ball watching her slowly but surely open up the hero's eyes to another world he knew about but never understood. Margaret makes it come alive with a relevancy that changes his perception, turning him into a man of action, especially when he begrudgingly performs a few heroic deeds along the way. He simply can't resist the heroine no matter what predicament she drags him into.
One of the most effective and clever scenes were the ones where Margaret took Lasham on excursions of "adventure". It's during those scenes that I saw the hero's character evolve, watched their relationship overcome challenges and grow, and it's also when their love blossomed. I think that's when I fell a little in love with Lasham myself. In those pursuits they both saw wonderful things about each other, and other aspects which made them flawed, vulnerable and human. It's also where I found most of the romantic moments throughout the novel. I enjoyed every single one.
For fans who like the bedroom door open enough to enjoy confirmation that Laham was totally, completely under passion's sway, they'll be gratified by his complete seduction of Margaret and her wild and satisfying response. They might have differences of opinion on many things but in the bedroom, they are quite energetic and wonderful together.
Another cute addition that Ms. Frampton added was the tale of Georgiana and the Dragon which was told in a few paragraphs before each chapter. That was equally entertaining and I chortled heartily with the publisher's final plea. Margaret, like her creator, Ms. Frampton, flaunts convention and tells the tale their way and knows how to keep their audiences enthralled.
One-Eyed Dukes Are Wild was one of most romantically satisfying books I've read in a while. I think it was how Ms. Frampton presented the Duke of Lasham. I just wanted to hug him and love him all over; he's such a wonderful man but he never had the chance to fly. Margaret gave him figurative wings and the rest was pure magic. This was a great read.




Editor's note:
This article was originally published at Long and Short Reviews. It has been republished with permission. Like what you read? Subscribe to the
SFRB's free daily email notice so you can be up-to-date on our latest articles. Scroll up this page to the sign-up field on your right.