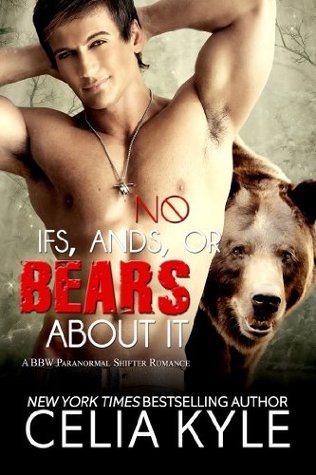 This tale has it all – sexy were-bears, a bit of action, bad guys, laugher and goofy quips all wrapped up with a romance story that made me very happy.
Ty and Mia are great together. I enjoyed how they initially fought it, then see-sawed between driving each other nuts while accepting small pieces of proof of their rightness as a couple, one delicious revelation at a time.
I liked the world building, the dialogue, the atmosphere and the relationship between Mia and her dad. I also liked that the author surprised me with hidden layers and depths of her characters. It made up for the speediness of Ty's manipulations in getting Mia into his house and into his bed. True, the heroine put up a good fight and made Ty work for it, which I appreciated, but there was a quickness to the process that seemed rushed and a tad unrealistic. Then again, this is a paranormal romance and bears aren't exactly patient creatures with social graces so actually, that impatience of his was part of Ty's charm.
The bad guys are bad on various levels. I liked that Ms. Kyle stated matter-of-factly the damage that was done to one of the betrayed bad guys. I didn't need to read graphic descriptions to understand how vile and blood thirsty and deviant they were and I am very glad the author handled it the way she did. It provided drama and suspense and action but the story did not come across as dark. It was a very good balance.
I laughed quite a bit during Ty and Mia's courtship. Seemed they always got interrupted and Ty's reaction was funny. There were emotional highlights that stemmed from the little cub and the affectionate term, "little cub". I won't say much more than that but it definitely touched my feelings and engaged me and solidified my attachment and caring for the main characters and some of the secondary characters.
I also enjoyed meeting Ty's brothers. To say they were yummy is an understatement. The author provided just enough character reference to make me very interested in following the brothers to see just what kind of HEA they end up getting. They were a solid hook.
Paranormal romance readers can't go wrong in giving No Ifs, Ands, or Bears About It a try. It's quirky, fun, sexy and highly entertaining. I greatly enjoyed this author's storytelling voice and heartily recommend this to anyone who likes their shifter romances and heroes on the lighter growly side.



Editor's note:
This article was originally published at Long and Short Reviews. It has been republished with permission. Like what you read? Subscribe to the
SFRB's free daily email notice so you can be up-to-date on our latest articles. Scroll up this page to the sign-up field on your right.