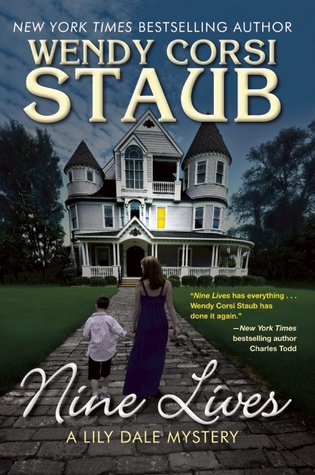 A chance for new beginnings is complicated by a mystery of a murdered lady. A newly widowed mom and her son get plunked right in the middle of it. How can a woman who is still hurting so bad able to be the catalyst for solving the crime? That is a good question and the answer can be found by reading this well-written and entertaining mystery filled with heartfelt insight into a woman who needs to stay strong for her son but isn't quite sure how to pull it off. Bella receives help from a most unlikely cast of characters, which in turn creates an atmosphere of charm, acceptance and support. If not for the chill of death, this story would have just been quirky fun.
There is a lot of internal dialogue on Bella's part because she's human. She second guesses herself, gives herself pep talks and generally tries to make sense of this strange town of Lily Dale and the people she meets. Her character is easy to like, to connect with and to cheer for. There are two men who might be a perfect match for her but one is a suspect and the other just seems like a nice guy. As little as they are on stage, they do provide some plot movement, inspire some interesting mother/son moments and dialogue, and some pondering from a reader as to what further role they might have in any future books that might be told about Bella's new life. Somehow life in Lily Dale isn't as placid as it first appears, or as kooky.
The storytelling voice is hard for me to pinpoint. I had a tough time trying to figure out if it was third person, narrative, or a little of both. In the middle of the paragraphs, I got into the grove of the story and I was fine. When there was a chapter break or a shift in scene, it starts off a bit different than I'm used to. It jarred me because I'm used to a certain format, but the storytelling is so strong, the mystery too intriguing and the threads of clues the heroine discovers amazingly intricate, I could not stop reading.
There is a light brushing of paranormal in the novel that was a nice touch. So much could be explained away but it was the things that could not be explained by science or fact that fascinated me. The most poignant and tear jerking moment came at the end of the story. If that wasn't beautifully paranormal, I don't know what else to call it. Whatever other readers will label that moment, it gave me the sniffles and happy tears.
I enjoyed how Bella solved the crime, not so much because she had a knack for sleuthing, but because she lived her life, and in getting to know the other residents in Lily Dale, could pick up on things they could not. Sometimes an objective eye is all that's needed, and the willingness to believe. The heroine is a doer, a mover and it holds her in good stead in this book, especially with the ultimate solving of the mystery. I didn't figure it out when she did. I was still led along like everyone else so the confrontation was rather shocking. I liked that.
Nine Lives is not just a mystery, but a story of a mother's determination to provide a life for her young son and the sacrifices she's willing to make in order to accomplish that goal. The author created a lovely town in Lily Dale and it came across in the writing. The fact that such a nice town could be subjected to a violent crime is a powerful conflict and it works. That a regular woman, with no super powers, military training or martial arts, could outwit a criminal and win is a great reason to check out this novel. It's how the characters are written; ordinary people doing extraordinary things and saving the day. It's one of the best things about this book and why I definitely recommend it to mystery and nonmystery fans alike. It's just that good a read



Editor's note:
This article was originally published at Long and Short Reviews. It has been republished with permission. Like what you read? Subscribe to the
SFRB's free daily email notice so you can be up-to-date on our latest articles. Scroll up this page to the sign-up field on your right.