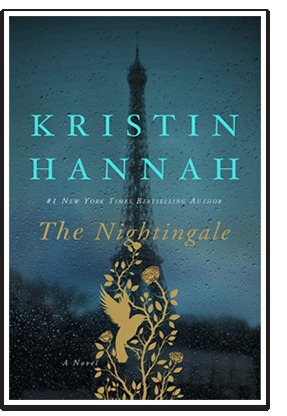 Kristin Hannah eases the reader into THE NIGHTINGALE with a present time, gentle, loving beginning before she changes time back to World War II in France. She weaves a spellbinding story that seems so real one feels as if it is an absolutely true story of two sisters plus all the events and people that impact their lives.
World War I that changed Viann and Isabelle Rossignol's father, also did its part in making the sisters feel unloved and abandoned. Their need to feel loved colors much of their action. Each of the girls copes in her own way with low self-esteem and that unrelenting desire for love. As the horrors of World War II move into France and settles in like an insatiable monster, the truth of Ms. Hannah's statement that "In love we find out who we want to be, in war we find out who we are" become very real.
The impetuous Isabelle seems to "rush in where angels fear to tread," while the older Viann sees herself as weak and unable to cope alone. Yet, both rise above their flaws to survive in the desperate time of war when deprivation is almost unbearable, racial hatred runs amok, and unspeakable atrocities occur. Trust vanishes and the German occupation forces move in, seeking to totally dominate the French people.
Viann and Isabelle, one operating underground and the other operating in plain sight, go quietly about their secret doings. At times, the reader's senses are reeling with descriptions of atrocities in the villages and towns, but a near sensory overload comes when conditions in the concentrations camps roars to life with the remarkable descriptions Ms. Hannah writes.
However, the daily living is also beautifully revealed that makes the reader smile at the happy times and cry when the devastation comes. How the people survive as the months and years bring more and more deprivation and persecution makes one aware of both the strength and the fragility in each human being.
THE NIGHTINGALE has a multitude of characters (so many that need special recognition), along with clandestine operations that all play important roles in how the French never really give up, but held on until the Allies arrived.
The story ends back in present time with a twist that made me cry, even though it reveals a love so precious.
This is a novel I highly recommend. It is rich with descriptions like: "Roses tumbled like laughter along the ancient stone wall." "She wanted to bottle how safe she felt in this moment, so she could drink of it later when loneliness and fear left her parched." "The street was a living breathing dragon of humanity." It immerses the reader in the horrors of war and how ordinary people, even with their many flaws, become extraordinary. It is beautifully written and memorable!



Editor's note:
This article was originally published at Long and Short Reviews. It has been republished with permission. Like what you read? Subscribe to the
SFRB's free daily email notice so you can be up-to-date on our latest articles. Scroll up this page to the sign-up field on your right.