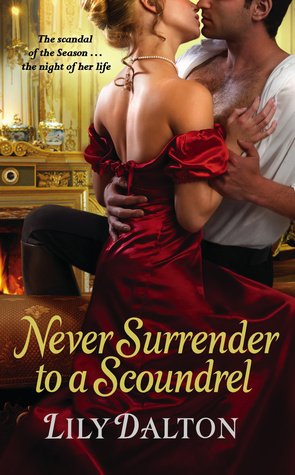 An agent of the Crown and a spoiled girl could never work together, could they? They come from two different worlds, right? Wrong. Lily Dalton makes them work, and work beautifully.
The plot is intense and there are a few twists that spice it up along the way. But the main attraction of the novel by far were the two main characters. The way Dominick acts honorably towards Clarissa despite losing everything because of the situation, and how Clarissa grows up into a determined and fair woman after making a huge mistake was a wonderful insight into their personalities. At first it seems they couldn't be more different, but through mutually deciding to make the marriage work they become far more alike and compatible.
I especially liked the first part of the novel in which Clarissa and Dominick were thrust into an unwanted marriage and the conflict between them is tangible. Unlike in other historical romances, their union started off with no attraction between them and no desire on either of their parts to be married. Clarissa was even portrayed as a rather frivolous, spoiled girl. But as the story developed and their marriage progressed, we got to see a different picture. The fact that their union started off inauspiciously but they were both strong enough to accept it and make it successful told of the strengths of their characters and made me love them so much more.
I felt the long epilogue was redundant and it spoiled the whole effect by tying up all loose ends rather too neatly. Other than that, the narrative was engaging, the characters as well, even though I haven't read the previous two novels in the series and I didn't know anything about them and their histories. But now I want to know all about them and I'll be sure to read their stories too.
Never Surrender to a Scoundrel was a delightful read with lovable characters and an inventive storyline. The narrative will grip you and pull you into the story until you will sigh with satisfaction at the sweet ending.



Editor's note:
This article was originally published at Long and Short Reviews. It has been republished with permission. Like what you read? Subscribe to the
SFRB's free daily email notice so you can be up-to-date on our latest articles. Scroll up this page to the sign-up field on your right.