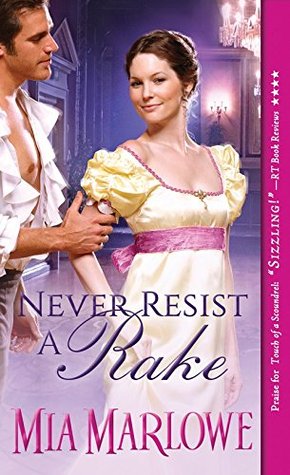 John Fitzhugh Barrett grew up believing he was the bastard son of some unknown-to-him nobleman. He was fostered out to a couple who took care of him, and showed him some offhand affection. His schooling was provided for, and he grew up to be a hard working, moral man. When he is approached by a half brother he never knew he had, and told that his mother was indeed legally married to his father, and he is the heir to a marquessate, his reaction is very surprising. Instead of going to the family seat, to meet his father, grandmother, and half sisters, he flees to London, where he takes up with some lowlife friends, and begins drinking, gambling, and wenching.
John could have accepted what happened to him if his family didn't know of his existence, but they, in fact, did. His grandmother believed he was illegitimate, so she made the arrangements for his upbringing. Now, John is bitter, and has no intention of meekly following his family's wishes. I certainly had a lot of sympathy for a young boy who doesn't have anyone to truly love him, and who is taunted at school for being a bastard. What I initially had a hard time with, was John's transformation to a true rake, in the worst sense of the word. After several months of this style of living, he sees Rebecca Kearsey in a museum, and is immediately captivated by her. Rebecca's friend drags her off when John tries to talk to her without a proper introduction. Fate provides an opportunity for them to meet again, and for Rebecca to attend a house party where his scheming grandmother plans to find him a highborn bride to help ease him into society.
I liked Rebecca right from the start. She is only the daughter of an impoverished baron, so she knows she doesn't qualify to be John's wife, yet she is attracted to him, and decides to come to the house party to offer him guidance. Soon, it's obvious that they both have strong feelings for each other. I absolutely adore that neither played games about hiding their feelings for each other, but I did hate that John kept telling himself he was not good enough for Rebecca because of the way he lived. He was also letting his bitterness and unforgiveness prevent his own current happiness. But then John finally starts to heal, and has the opportunity to be a hero. It was wonderful to see his eyes open, and see him start on the path to a better future.
While I don't expect John to ever totally love his grandmother, I expect that they will at least be able to have a cordial and friendly relationship. John and Rebecca have a strong love and passion, and I envision a very happy life for them. The last part of Never Resist a Rake was full of intrigue, and interesting twists, and I found that I couldn't read fast enough to find the resolution. I recommend this book for all historical romance lovers, particularly those who like to see a hero who has to battle with himself, and then enjoy a very satisfactory happy ever after.



Editor's note:
This article was originally published at Long and Short Reviews. It has been republished with permission. Like what you read? Subscribe to the
SFRB's free daily email notice so you can be up-to-date on our latest articles. Scroll up this page to the sign-up field on your right.