Not quite horror (despite some gore), but certainly plenty scary in parts, Monsterland was a great read.
First off, I have to say this: author Michael Phillip Cash has serious writing chops. From the first line I was plunged into the story with his clear, vivid descriptions and interesting scenes. The characters were so clearly drawn I felt as if I sat right there with them on the couch in the home watching the TV. I was really impressed.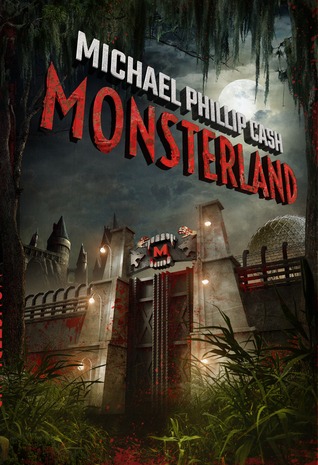 The story was interesting. Occasionally scary, occasionally funny, sometimes desperately sad, I was completely engrossed. Is it an unlikely scenario? Absolutely. Most dystopian-type books that I read I'll nod and think, "Yep, I can see that happening." but not so much this one. Did that diminish my enjoyment? Not really. But, honestly, that's mostly because I was so crazy about the characters. There were a few places where I really had to suspend my belief in reality for this, but I didn't care. I'd have followed Carter and Wyatt anywhere.
The story does start a little slowly, but it sort of had to in order to introduce us to what's going on…a town that's on the brink of collapse, a virus that turns people into zombies, a wealthy businessman who's going to save everyone with his theme park and Carter's suspicion of the guy's motives.
I really loved Carter. He's trying so hard to be a good dad to his step-kids, both of whom are teens so it makes it that much harder for him to connect with them. They have the "you're not my dad" syndrome, but he doesn't give up. He's a great guy. Despite wanting to slap the boys now and then, they grew on me and definitely did some growing up and maturing during the story.
There is some strong language and descriptive gore throughout, so be warned if that's not your thing. But if it is? You should definitely give this book a go. It was a winner for me, and I'll be keeping an eye out for more from this author.




Editor's note:
This article was originally published at Long and Short Reviews. It has been republished with permission. Like what you read? Subscribe to the
SFRB's free daily email notice so you can be up-to-date on our latest articles. Scroll up this page to the sign-up field on your right.